UW-RF Home > University Communications Home > This Month's News Releases
University Communications
For more information contact mark.a.kinders@uwrf.edu or brenda.k.bredahl@uwrf.edu.
Speaker Urges Grads to be Caretakers and Shapers of a Greater Purpose

DEC. 18, 2005--Some 280 bachelor's and master's degree candidates and nearly 2,000 family and friends at the University of Wisconsin-River Falls heard a strong message of a sense of purpose from the keynote commencement speaker and 2006 distinguished teacher Nate Splett at Saturday's Commencement at the Robert P. Knowles Physical Education and Recreation Center.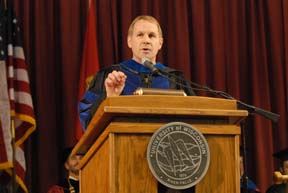 "With your eyes fixed on the far horizon, however and wherever your destiny, you are the caretakers and shapers of our humanity, our land, and our ideals," said Splett, an agricultural economic professor. "I have two hopes for you--that you will always be passionate in your work, and that you will always be humble."
Splett was introduced by Provost and Vice Chancellor for Academic Affairs Charlie Hurt, who recited student praise for Splett's teaching and mentorship abilities as the 2006 Distinguished Teacher.
In his keynote, Splett shared anecdotes about alumni and students who are meeting a greater purpose. "Astronaut [and UWRF alumnus] Dan Brandenstein ... reached into space on four shuttle missions... challenging us to innovative and imaginative ideas. He was and is a shaper of our ideals."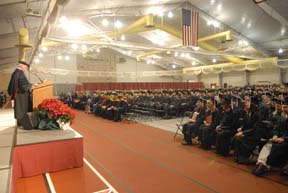 A UWRF graduate himself, Splett lauded the careers of fellow alumnus Wong How Man, an explorer, conservationist and founder of the Chinese Exploration Research Society, who discovered a new source of the Yangtze River, and who received the Distinguished Alumnus Award from the University. In 2002, Wong "stood here to be honored as a caretaker of our humanity and land." He also mentioned classmate Sig Hanson, director of World-Vision Pakistan, who continues to provide earthquake relief and other humanitarian service to that part of the world. Splett also cited the volunteer efforts of students with Hurricane Katrina efforts and other activities.
As a teacher, Splett said, the purpose is "always for the students, always we teach to the best of our ability and always so that you graduate to fulfill your greater purpose as caretakers and shapers." He noted that his wife, Becky, is retiring from teaching third grade this year, and that he takes comfort in the fact that many of their former students have become teachers and will carry on the joy of teaching and learning.
Splett has served as interim dean and assistant dean of the College of Agriculture, Food and Environmental Sciences as well as chair of the agricultural economics department. Splett holds a Ph.D. in agricultural economics from the University of Illinois at Urbana-Champaign. He received the UWRF Advisor of the Year Award in 2005. Prior to coming to UWRF, he was a vocational-agriculture instructor in the Barron and Turtle Lake high schools, worked in private industry and taught economics at UW-Stout.
In welcoming the graduates, Chancellor Don Betz urged them to use their three powers of encouragement, service and gratitude whenever possible. Betz also announced the Kansas City Chiefs Football Club as the recipient of the 2006 Distinguished Service Award, given to an individual or organization that has made exemplary contributions to UWRF. The award will be accepted by a member of the KCC organization at spring commencement because of the recent death of KCC founder Lamar Hunt.
Other speakers at commencement included Student Senate President Joe Eggers, from Appleton, Wis., and UW System Regent Mark J. Bradley (below), of Wausau, who issued congratulatory remarks on behalf of UWS and spoke of the economic opportunities facing the new graduates, the value of a college diploma and the economic impact of UW System graduates upon the state's well being.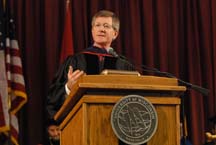 Degrees were conferred by Terry Brown, dean of the College of Arts and Sciences, Dale Gallenberg, dean of the College of Agriculture, Food and Environmental Sciences, Barbara Nemecek, dean of the College of Business and Economics, Connie Foster, dean of the College of Educ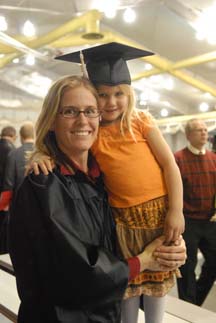 ation and Professional Studies, and Doug Johnson, director of graduate studies.
Katherine M. Waldo, a graduating senior and music major from Beldenville, sang the "The Star Spangled Banner" and the "UWRF Pledge Song" accompanied by The River Falls Brass.
-30-
Right: Shallyn Simma, a mathematics major from Hudson, shares her mortar board cap and the joy of graduating with her sister Jade Berger at UWRF Commencement held Saturday.
Below: Elementary education major Megan Knobloch, of Marshfield, posed with her family--mother Mary Jo, sister Emily and father Tim--after participating in commencement ceremonies at UW-River Falls Saturday. The framed photo behind the family is an action shot of Megan, the 2005 WIAC tennis scholar-athlete. The photo is part of a new gallery of athlete photos in the Hunt-Knowles locker room addition.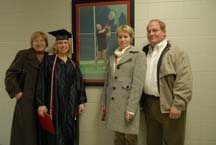 -30-
Last updated: Thursday, 22-Apr-2010 16:07:53 Central Daylight Time