UW-RF Home > University Communications Home > This Month's News Releases
University Communications
For more information contact mark.a.kinders@uwrf.edu or brenda.k.bredahl@uwrf.edu.
Student Support Services Raises Funds for Free Clinic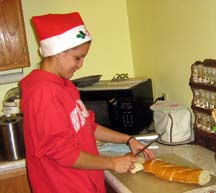 DEC. 15, 2006--Nearly 40 people enjoyed spaghetti and garlic bread at the UW-River Falls Student Support Services fundraiser for the Medical Free Clinic of River Falls held at the Journey House Campus Ministry. "In total, we raised $600 for the clinic," said Rose Rude, Student Support Services advisor. "We raised money though bake sales, change jars placed around UWRF, and the spaghetti dinner." Volunteers staffing the dinner included: (Below, L to R:) Dee Burce, a sophomore agricultural education major from Alma; Tashi Palzom, a senior marketing communications major from River Falls; SSS advisor Rose Rude, of River Falls; Dan Burce, a freshman conservation major from Alma; Heidi Blasel, a freshman pre-major from Stetsonville; and Amy Robak, a freshman conservation major from Oak Park, Minn. Blasel (right) made garlic bread for the spaghetti dinner.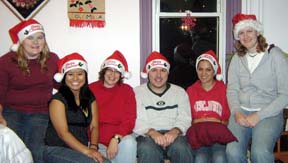 -30-
Last updated: Thursday, 22-Apr-2010 16:07:52 Central Daylight Time