UW-RF Home > University Communications Home > This Month's News Releases
University Communications
For more information contact mark.a.kinders@uwrf.edu or brenda.k.bredahl@uwrf.edu.
UWRF Commencement is Dec. 16
DEC. 11, 2005--The University of Wisconsin-River Falls will hold its fall commencement at 2 p.m. on Dec. 16 in the Robert P. Knowles Physical Education and Recreation Center.
Some 280 bachelor's and master's degree students are expected to participate in the commencement ceremonies. A commencement concert by the River Falls Brass begins at 1:30 p.m.
Agricultural economics Professor Nate Splett, the 2006 UWRF Distinguished Teacher, will address the graduates with a speech titled, "Caretakers and Shapers."
Splett (left) has served as interim dean and assistant dean of the College of Agriculture, Food and Environmental Sciences as well as chair of the agricultural economics department. He holds a B.S. in agricultural education, an M.S. in agricultural economics from UWRF and a Ph.D. in agricultural economics from the University of Illinois at Urbana-Champaign. He received the UWRF Advisor of the Year Award in 2005.
Prior to coming to UWRF, Splett was a vocational-agriculture instructor in the Barron and Turtle Lake high schools, a loan officer for Production Credit Association and a supervisor for the Farm Credit Administration. He has also served as a consultant to agriculture-oriented financial institutions and taught economics at UW-Stout. He has been a visiting lecturer at the Academy of National Economy in Moscow, Russia.
Receiving the Outstanding Service Award is the Kansas City Chiefs Football Club. Established in 1983, the award recognizes individuals and organizations that have made exemplary contributions to UWRF. It is the highest honor bestowed upon a friend of the university.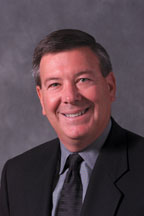 Denny Thum (right), KCC executive vice president and chief operating officer, will accept the award on behalf of the NFL club. The Kansas City Chiefs has called River Falls and UWRF its summer home for the past 16 years. The partnership has increased economic impact in the region, enhanced institutional visibility and provided valuable learning experiences for students and summer interns. In addition, the annual training camp and its special events offer visitors from near and far the chance to experience an NFL team up close.
The graduates will also be welcomed by UWRF Chancellor Don Betz and issued congratulations on behalf of the UW System by Mark Bradley, a regent vice president of the UW System Board of Regents. Bradley is an attorney with Ruder Ware LLSC in Wausau and has previously worked for UW System as a budget analyst and assistant to a senior vice president. He received his law degree from UW-Madison and serves as a trustee and/or director for several foundations.
Katherine M. Waldo, a graduating senior and music major from Beldenville, will sing the "The Star Spangled Banner" and the "UWRF Pledge Song" accompanied by The River Falls Brass.
-30-
Last updated: Thursday, 22-Apr-2010 16:07:52 Central Daylight Time