UW-RF Home > University Communications Home > This Month's News Releases
University Communications
For more information contact mark.a.kinders@uwrf.edu or brenda.k.bredahl@uwrf.edu.
Production Features Holiday Farce
By Meghan Dusek
UWRF University Communications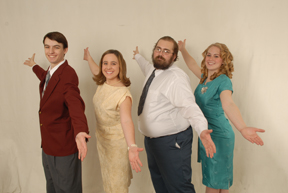 DEC. 4, 2006--The UWRF student theatre association Masquers is ushering the holiday season with "Sorry! Wrong Chimney," in the Blanche Davis Theatre of the Kleinpell Fine Arts Building Dec. 7 - 9 and 14 - 16.
"[It is a] Christmas time farce, however, it is truly unexplainable," says director Kate Garlock, a journalism major from Little Canada, Minn.
The play is a cornucopia of "mistaken identity, misplaced hypnotism, groovy sixties costumes, a set that brings back memories which those who experienced them would probably prefer to keep suppressed," says Garlock. "What isn't "Sorry! Wrong Chimney"?"
Garlock emphasizes the comic value of the production--often found lacking in holiday pieces, as some can be a tad maudlin. "It is a fun holiday comedy that strays from the traditional "Christmas Carol," she said.
So instead of watching Tiny Tim wheeze, the production is a great alternative, she says. In addition the effort that the all the actors and designers have put into it has made "Sorry! Wrong Chimney" a very funny show for the whole family, said Garlock. "It will be a unique experience for everyone who has the good sense to come and see it."
The cast includes: (L to R) Marc Berg, a freshman journalism major from Rosemount, Minn. as David Tuttle; Brittany Engler, a junior theatre arts major from Bristol, Wis. as Samantha Tuttle; A.J. Hakari, a junior journalism major from Barron, Wis. as William Weldon; Amber Olson, a freshman pre-major from Ellsworth, Wis. as Natalie Weldon; (not picured:) Nick Moen, a junior theatre arts major from Colfax, Wis. as Kris Kreigal; Kelsey Anderson, a freshman theatre arts major from Esko, Minn. as Sheila; and Eric Douglas, a freshman marketing communications major from Rosemount, Minn. as a policeman.
Tickets are $7 for adults and $4 for seniors and students and available at the box office in the lobby of the Kleinpell Fine Arts Building. For more information contact the University Box Office at 715-425-3114 or 800-228-5423 or visit www.uwrf.edu/scta. The box office is open two weeks before the first performance from 10 a.m. to 3 p.m. Monday through Friday and one hour before each performance.
-30-
Last updated: Thursday, 22-Apr-2010 16:07:51 Central Daylight Time