UW-RF Home > University Communications Home > This Month's News Releases
University Communications
For more information contact mark.a.kinders@uwrf.edu or brenda.k.bredahl@uwrf.edu.
Mural Honoring Late Professor Unveiled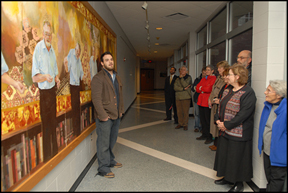 DEC. 4, 2006--Campus and community members showed up for the unveiling of a mural Nov. 28 in the west hallway of the Wyman Education Building at UW-River Falls honoring the late history Professor Ed Peterson. The mural, composed of six different stances portraying the professor in action, was created by Garrett Bergemann, a senior fine arts major from Bloomington, Minn. While Bergemann noted that he never had taken a class from Peterson, he wanted to make an image that would inspire the campus community. "When you're making something like that, it's hard to get all of these things together. So I thought I'd focus on what I thought was the core of the community, which is the teacher and the student and the interaction that takes place." Bergemann chose to represent Peterson for his passion, evident in classroom photographs. "You can see the passion and the movement of one person in his acts...I see all these images of Ed Peterson in the middle of his teaching, and I was just amazed at the passion and the amount of expression and the dedication to his craft." Peterson's wife Ursula, of River Falls, attended the event.
-30-
Last updated: