UW-RF Home > University Communications Home > This Month's News Releases
University Communications
For more information contact mark.a.kinders@uwrf.edu or brenda.k.bredahl@uwrf.edu.
Compost Barns Aid Top Milk-Producing Cows
By Kendra Knutson
UWRF University Communications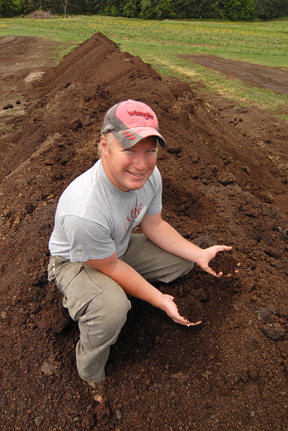 DEC. 4 , 2006--The cows at the University of Wisconsin-River Falls (UWRF) laboratory farm must be happy, as they are some of the top milk producers in Pierce County. The cows are good producers in part because of their compost bedded pack barns are cow-friendly and add comfort, according to animal science Professor Steven Kelm and farm manager Bill Connolly.
"As the No. 2 ranked farm in milk production in Pierce County averaging 27,000 lbs. of milk per cow per lactation, we feel our cows are very appreciative of the compost bedded pack barns," said Kelm. "This works well for us."
The farm has been experimenting with compost since the early 1990s; however, their methods have changed dramatically since then. Back in 1990 the College of Agriculture, Food and Environmental Science (CAFES) and the farm received a $36,000 grant from the Center for Integrated Agricultural Systems (CIAS) at UW-Madison to study on-farm composting of manure and bedding.
The grant helped purchase a tractor-pulled compost turner to aid in the composting process, said Kelm. Farm staff used bedding pack manure from the open front dairy heifer barn when it was cleaned out in the spring. The material would be placed in windrows and composted on a field near the barn. Only the heifer manure was composted as the milk cows were housed in a tie-stall barn with a liquid manure handling system.
At first, the farm accepted local city leaves along with grocery store fruit and vegetable waste, which was mixed with the manure to compost. However, problems arose, says Connolly, when too many plastic bags, metal and rocks came with the off-farm materials from careless separation procedures. It finally got to be too much to separate the materials, so the farm quit accepting these items and decided to use only bedding and manure.
About three years ago the lab farm abandoned the tie-stall barn with its liquid manure system and decided to go for the openness and comfort of a compost bedded pack barn. Two open-front hay barns adjacent to the old tie-stall barn were converted to compost barns.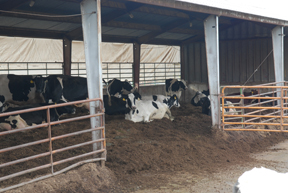 "Tie-stall barns may have been useful and spacious for cows in the 1960s, however, now cows are bred to be larger," said Kelm. Benefits from the compost barn have included better herd health, higher milk production and fewer feet and leg problems among the herd.
Connolly, dairy farm manager John Galgowski, and equipment operator Mark Watrud as well as compost manager Carl Sackreiter (above), an agricultural business major from St. Charles, Minn., have been instrumental in facilitating the compost process, assisted by Kelm, and animal science Professor Larry Baumann and agricultural engineering technology Professor Bob Butler.
Kelm says achieving good compost results is a process. First, a deep layer (8 to 12 inches) of organic bedding such as sawdust or wood chips is spread down. The lab farm requires a semi-trailer load of about 16 1/2 tons of wood chip bedding for both the milking barns.
An implement such as a field cultivator is used to stir the pack. Kelm said the most important factors are tilling deep (at least 10-12 inches) and making sure it is stirred twice a day. This way any wet bedding or manure gets buried in the pack and new drier material is brought to the surface. This also increases the porosity of the pack, which is necessary for the aerobic composting to proceed.
"There is bacteria in there; but it gets to a temperature that keeps bacteria lower than they normally are," says Kelm.
Two to three inches of new bedding is added every two to three weeks. The barns are completely cleaned after three or four months. The bedding and manure is put into windrows to continue the composting process. Microorganisms, including bacteria, generate heat in the material here, as well as earlier in the barns. Temperatures can reach up to 155 degrees F in the windrows and 120-130 degrees in the barns, according to Connolly.
Depending on temperature and moisture, the windrows will be turned once or twice a month. After a few months, the composting process is essentially finished. For the farm's field crops, the composting manure can be used at any stage in the process, much like manure to provide nutrients to the growing crops.
One way the lab farm has generated income is by selling finished compost to the public. Sales are held on weekends in the spring and fall. A compost student manager does the selling and loading.
Beginning in 1998-99, sales grossed a mere $265 compared to $5,200 in 2005-06. While most people buy the compost to use on their personal garden, some landscaping firms and plant nurseries buy it in bulk for use in their businesses. The cost is $20 per yard, with a discount on more than 10 yards purchased.
Besides providing cow comfort and a finished product for the public, the compost also provides research experiences. Kelm is currently conducting research at the farm on the impact that different tillage methods have on characteristics of the pack. One barn is used for deep tillage 10 times a week where it is cultivated 10 inches deep. Then twice a week a chisel plow is used to reach a depth of 18 inches. Once down to 12 inches, the material is 10 percent drier, said Kelm.
The other barn is concentrated on the shallow tillage method. A rototiller is used to reach 4-6 inches deep. The pack remains fluffier while still being deep enough to keep the compost going. Kelm's research, since July 1, has included six trials to compare shallow, moderate and deep tilling. These trials will conclude in the next few weeks.
Down the road he hopes to use other organic bedding such as corn stalks, chopped straw, soybeans and finely chopped or ground corn cobs.
Both Kelm and Connolly feel that compost barns are a viable method in addressing dairy cow comfort and health and generating quality manure. They can be economically, environmentally and cow friendly and reduce odors. Plus the surplus may be sold to the public in the composted form.
"Bottom line, we would like to create an environment in which dairy farms can co-exist with the public," said Connolly. "Waste is a useful resource, and when used properly, it will help grow corn, alfalfa, and other crops."
Connolly said he enjoys having the public come to the farm to buy compost. He says, "We feel we have good stuff; compost happens!"
-30-
Last updated: Thursday, 22-Apr-2010 16:07:50 Central Daylight Time