UW-RF Home > University Communications Home > This Month's News Releases
University Communications
For more information contact mark.a.kinders@uwrf.edu or brenda.k.bredahl@uwrf.edu.
Retired Hudson Police Chief Named Interim Security Director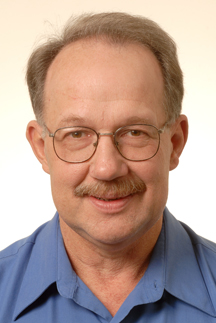 NOV. 22, 2006--A veteran police chief with more than three decades of law enforcement experience in the St. Croix Valley has been named interim director of public safety at the University of Wisconsin-River Falls.
Richard Trende, 57, retired as chief of police in Hudson, Wis., after 13 years in the position. Previously he had served as a detective and police officer with the Hudson Police Department since 1972.
"I look forward to returning to a role in a campus community," said Trende, who served as a resident assistant in college and who has frequented UWRF classes as a guest speaker. "As a resident assistant and counselor in college I enjoyed dealing with student issues. It was particularly challenging because it was during the anti-war student movements near the end of the Vietnam War."
Trende noted that while he was I-A eligible to serve in Vietnam, he did not file a student deferment yet was never called into service.
In his 34 years with the HPD, Trende has witnessed the explosive growth in the largest municipality in St. Croix County, one of the fastest growing counties in Wisconsin and the nation. When he began in 1972, Hudson's population was just over 5,000, compared with more than 12,000 today.
"We are very pleased to have Dick Trende join the UW-River Falls community," said UWRF Chancellor Don Betz. "His experience and strong sense of service will be welcomed by all of us here."
While Trende said he enjoyed the summer off after retiring from the HPD in May, he had every intention of returning to the work force in a new capacity. This fall he had been considering several opportunities and was pleased to be selected to serve as interim director until a formal search can commence.
"My hope is to connect with students, faculty and staff on campus in a variety of ways," said Trende.
While with the HPD, Trende was active in the Counteract Program, which he helped develop with Hazelden Health Promotion Services; Community Action, which offers substance abuse prevention and education in schools and youth groups; UWAZO, an aftercare ministry program for offenders as well as youth sports including referring for area high school football games.
"I've always had a passion for these types of things," Trende said. "I hope to apply my law enforcement background and other endeavors with crime prevention and education initiatives on campus."
He replaces Mark Kimball, interim director of public safety for the past 20 months, who has held various positions at the university and who is retiring in December.
Trende holds a B.S. in sociology with emphases in psychology and criminal justice and a minor in anthropology from Southwest Minnesota State University at Marshall.
A native of Preston, Minn., he graduated from Silver Bay (Minn.) High School. He and his wife Char, who works for the Washington County (Minn.) District Attorney, live in Hudson. They have three grown children and two grandchildren.
-30-
-30-
Last updated: Thursday, 22-Apr-2010 16:07:49 Central Daylight Time