UW-RF Home > University Communications Home > This Month's News Releases
University Communications
For more information contact mark.a.kinders@uwrf.edu or brenda.k.bredahl@uwrf.edu.
Proposed Internship Program Explored
By Meghan Dusek
UWRF University Communications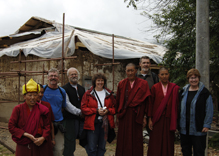 NOV. 17, 2006--A new proposed internship program at the University of Wisconsin-River Falls aims to introducing media technology across different languages, customs and cultures. A bag-lunch meeting to discuss the proposed internship program at 12:15 p.m. on Wednesday, Nov. 29 in 215 South Hall.
The idea started in 2005 when a group of faculty members traveled to the Yunnan Province, a remote region of the Himalayas near Tibet to visit the projects of Distinguished Alumnus Wong How Man at his China Exploration and Research Center (CERS) near Shangri La. The group included including art Professor Lynn Jermal; biology Professor Brad Mogen; plant and earth science Professor Kelly Cain; marketing communications Professor Tracy O'Connell; speech communication and theater marketing Lecturer Pat Hanson; and International programs director Brent Greene.
The art department is preparing to return to the site this summer with students to work on sustainability projects to add to the students' experiences and skills as well as to benefit Tibetan villagers, says Jermal. The tentative dates are July 21-Aug. 19, 2007.
The internships aim to engage the youth of the village in learning how to use recording technology such as digital cameras and sound recording to capture the work of storytellers, dancers, visual artists, poets, writers, and performers.
Seven students are involved so far, but anyone interested in the project are encouraged to contact Jermal at lynn.m.jermal@uwrf.edu .
The internship proposal notes that in collaboration with CERS the UWRF internship program can play important role in "initiating a process of recognizing, documenting, preserving and continuing the rich artistic heritage of the village by introducing the role new media can have in gathering, conserving and disseminating information."
One project, Jermal says, will focus on the arts and addresses collecting documentation on the artisans of the villages and encouraging young villagers to visualize creating marketable items in their traditional forms.
-30-
Photo: Brad Mogen. L to R: Monks from the Dongjulin nunnery in the Tibetan region of the Yunnan Province with UWRF faculty, including Brad Mogen, Kelly Cain, Mary Williams-Greene, Brent Greene, and Lynn Jermal.
-30-
Last updated: Thursday, 22-Apr-2010 16:07:48 Central Daylight Time