UW-RF Home > University Communications Home > This Month's News Releases
University Communications
For more information contact mark.a.kinders@uwrf.edu or brenda.k.bredahl@uwrf.edu.
Return to the Farm Program Teaches Successful Family Partnerships
By Kendra Knutson
UWRF University Communications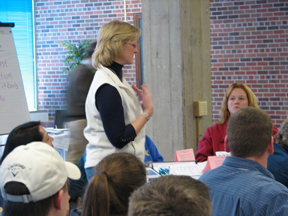 NOV. 17, 2006--You go out to start the morning chores on the farm, but to your dismay you find that the tractor won't start because you forgot to put it in the shed, the cow waterers are frozen because it is so cold that even a polar bear would shiver, and the manure holding system is overflowing because it hasn't been emptied in a year.
Although things weren't always like this, the problems began when the family partnership started having conflict among its members.
These are exactly the kinds of issues the Returning to the Farm Program addressed at the University of Wisconsin-River Falls Nov. 4-5.
Attending the program were UWRF students along with 30 farm owners including parents, aunts, uncles, significant others, and in-laws.
The program is new to UWRF and Wisconsin. Last year it was piloted at UW-Platteville. "We are looking into the feasibility of doing this on a more routine basis here at UWRF especially after seeing the turn out and the evaluations of the first session," said agricultural economics Professor Gregg Hadley.
Joy Kirkpatrick, UW-Extension (UWEX) and the Center for Dairy Profitability (CDP), said the program was adopted for Wisconsin agriculture campuses from a model developed in Iowa. UWEX and CDP sponsored on the workshop, which was taught by Joy Kirkpatrick; Jenny Vanderlin, CDP; Bob Cropp, Pepin County UWEX; Carl Duley, Buffalo County UWEX; Phil Harris, UW-Madison, UWEX; and UWRF agricultural economics professors: Nate Splett, Stan Schraufnagel, Juliet Tompkins and Gregg Hadley, UWEX, CDP.
Sessions and activities included a video case study of a family farm undergoing a transition and an activity where learners were separated into male farm owners, female farm owners, and future successors and explored their future aspirations for the farm. Other activities for participants include Myers-Briggs personality assessment, which was used in explaining the benefits and problems with relating to business partners who have different personality types.
Participants also analyzed farm financial potential and received free financial feasibility studies. Other topics covered were legal issues, teamwork, communication, business arrangements, how the financial aspects are shared among future partners, and overcoming life's challenges that can affect the business.
UWRF students Jill Franklin and Nathan Audet attended the program and found it to be useful.
Franklin says she plans on returning home to farm with her fiancé and thought the workshop would be beneficial experience.
"We appreciate what the farm has given us and would like to have our kids grow up with the farm influence," said Franklin, a junior majoring in dairy science from Broodlyn, Wis. "The program is benefiting us because it has forced us to make decisions, now we are starting to put our decisions into action. Franklin said she can't imagine doing anything else for a career. She hopes to have a 40-cow dairy operation with 160 acres.
Audet, a senior from Bridgeport, Vt., who is majoring in Agricultural Business, chose to attend because he intends to return home and eventually being part owner of his family's 1,000-cow dairy operation comprised of about 2,000 acres.
Audet's parents came from Vermont to attend the program. "I have a keen interest in working with animals and in the financial aspect of the family business," said Audet, and like Franklin, said he enjoys the farm lifestyle. "The program brought up some potential issues that my family and I will encounter in the transfer process."
Audet said he chose to attend UWRF because of its excellent agricultural economics department and the overall size of the school.
Participants will attend the second part of the Return to the Farm program in February 2007. The goal is to have the families discuss issues that may have came to their attention from the first session.
"We want that session to be very responsive to the learners needs and wants," said Hadley, "so we will be discussing issues that the learners feel are important to help their future farm partnership and transition succeed."
-30-
Photo: Sue Wilber, mother of UWRF agribusiness management senior Nathan Wilbur, from Trempeleau, Wis., presents the "moms" perspective at the Return to the Farm Program at UWRF.
Last updated: Thursday, 22-Apr-2010 16:07:48 Central Daylight Time