UW-RF Home > University Communications Home > This Month's News Releases
University Communications
For more information contact mark.a.kinders@uwrf.edu or brenda.k.bredahl@uwrf.edu.
Area Teachers Learn New Technology
By Ben Jipson
UWRF University Communications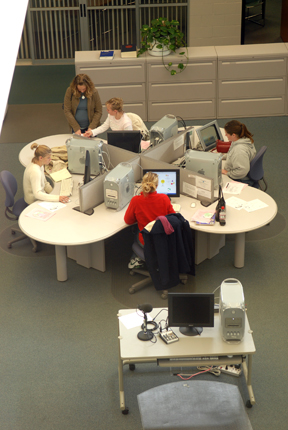 NOV. 10, 2006--Nearly 140 K-12 teachers from nine local school districts spent a recent Saturday at the University of Wisconsin-River Falls learning new and innovative technologies to apply in the classroom.
The 2006 Technology Integration Workshop was held at the Wyman Education Building and the Chalmer Davee Library on Nov. 4 from 9 a.m. to 2:30 p.m.
The purpose of the workshop was not to just teach educators to use software, but to explore how to integrate technology into their classrooms and their students' lives. Mary Manke, assistant dean of the UWRF College of Education and Professional Studies, says that positive learning and teaching opportunities that result from well-equipped classrooms, but problems can arise if teachers aren't taught how to use the technology.
"Historically, it's been easier to get funding to put technology in schools than it has been to help teachers see how to use it effectively," Manke said.
Students in today's K-12 classrooms are a technology-oriented generation of kids, explained Manke, and proper training is essential to keep up with the constantly evolving technology. Not only has interest in technology education grown because of teacher motivation, but also because school administrators are encouraging teachers become familiar with the latest teaching strategies.
Presentations by teachers who have shown excellence in the area of technology in teaching were the central focus of the day, and there were also presentations led by members of UWRF's Technology Leadership Cadre (TLC). Presenters showed teachers how to use and put to use software programs including Inspiration, Kidspiration, Smart Board, PhotoShop, iMovie, as well as Microsoft PowerPoint, Word and Excel.
Most of the 90-minute sessions were held in the Wyman Education Building's high-tech classrooms and Technology Education Center, and others were held in the computer labs at the Chalmer Davee Library.
The following area teachers participated:
Boyceville : Angela Hellman, Mary Kay Kryshak, Rochelle Olson and Katie Ouellette
Ellsworth: Tim Brunner, Bill Filler, Lisa Groh, Kristin Hanson, Barb Johnson, Mary Lewien, Verna Lifto, Iva Lipke, Nancy O'Neill, Karen Solyntjes, Becky Taplin and Pamela Williams;
Hammond : Amie Gafner, Rachael Hovland, Tera Hinzman, Karen Loenser, Mary Lucking, Kim Orth, Judy Ptacek, Sara Route, Joanne Sanders and William Stuessel;
Hudson : Rhonda Austin, Molly Dado, Veronica Ellingson, Emily Emerson, Kristin Ericson, Rebecca Fowler, Julie Gilbertson, Kari Grove, Jonathan Hilding, Tom Klatt, Ashley LaVick, Nicole Lodahl, Jackie Lutz, Jodi Magee, Judy Meincke, Pamela Morrison, Katie Murphy, Kelly Veenendaal, Gloria Willert, Jay Wollan and Lisamarie Wasson;
New Richmond : Crystal DeGear, Bryan Hop, Amber Johnson, Tracy Larson, Brian Miller, Mike Pike, Lindsay Schultz and Nickaline Wolf;
North Hudson : Jessie Dorszynski and Elizabeth May;
Osceola : Jana Fischer, Laura Ritten, Robin Sauve, Kay Shores, Rosemarie Spanel, Darla Traynor and Susan Turner;
Prescott : Trish Foreman, Erica Keezer, Helen Berg (Raebel), Sue Kirt, Brad Matzek, Miranda Schwab and Vicki Trollen;
River Falls : Steve Anderson, Aaron Boche, Heather Boleman, Diane Brady, Jullian Burke, Rick Clearly, Sue Covill, Elizabeth Culver, Shannon DeSmith, Kevin Dorn, Jo Dougherty, Jamie Follstad, Dawn Folstad, Deb Freeman, Pam Friede, Jason Haughley, Cheryl Hoffman, Jayne Hoffman, Kaleena Hoffman, Denise Horsman, Cliff Johnson, Sue Kapping, Barbara Kasuboski, Cindy Kornmann, Judy Lefeber, Dawn Lemmons, Laura Lenneman, Carrie Loney, Kit Luedtke, Sue Moriarity, Zac Opps, Rick Osterhaus, Steve Papp, Kim Pavlichek, Marcia Pharis, Sherry Powell, Karen Rost, Sara Rudesill, Lori Sather, Valerie Schmidt, Judy Seguin, Judy Slimmer, Richard Thompson, Debbie Verburg, Adam Villeneuve, Jane Webb, Jean Wespetal, Mary Whitemarsh, Joe Young and Jeanne Zirbel;
Somerset : Eva Armstrong, Brenda Boucher, Dennis Potter, Andrew Emerson, Jody Keller, Billie Jo Larson, Lytha Lyons, Diana Peterson, Autumn Powers, Christine Scheid, Renee Sirinek and Cherrie Wood.
-30-
Last updated: Thursday, 22-Apr-2010 16:07:47 Central Daylight Time