UW-RF Home > University Communications Home > This Month's News Releases
University Communications
For more information contact mark.a.kinders@uwrf.edu or brenda.k.bredahl@uwrf.edu.
Prof Attends Food Science Congress in Brazil
By Kendra Knutson
UWRF University Communications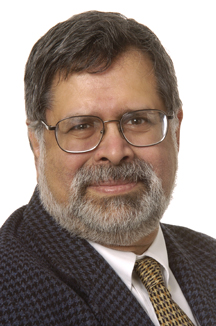 NOV. 10, 2006--A University of Wisconsin-River Falls food science professor was invited to participate in the 20 th Food Science and Technology Congress, held in Curitiba, Brazil in early October.
Purnendu Vasavada, Ph.D., was invited by the organizing committee to present a paper on the "Need of Microbiological Testing for Assuring Food Safety" at the congress. More than 900 people from academia, research institutions and the food industry in Brazil and other Latin American countries attended this bi-annual event.
Other invited international speakers at the conference included David Lineback, University of Maryland and USFDA; Christian Larroche, University Blaise Pascal, France; Ashok Pandey, CSIR, Trivendrum, India; and Maria Lourdes Costa Rica, FAO, Rome.
The main theme of the congress was Brazilian food industries in a globalized marketplace with an emphasis on food quality and safety. The technical program included plenary speakers, keynote presentations, research communications and technical poster presentations as well as an exhibition featuring various products and services provided by companies in Brazil and Latin America.
Vasavada and three Brazilians food scientists participated in a technical session focused on testing for microbial safety, allergens, and GMOs. Approximately 400 people attended the three-hour session,
Earlier this summer, Vasavada also conducted a workshop on food safety and microbiology in Sao Paulo, Brazil. "Traveling to international events, such as the Brazillian Food Science and Technology Congress, provides an excellent opportunity to introduce UWRF programs and activities, particularly food science and technology and explore collaborations with universities and industry partners abroad," said Vasavada. "Even at the Congress people knew about UW-River Falls and our program."
"It is significant to connect with food science colleagues in Brazil and meet with faculty there as resources, in order to bring back pertinent information for the students and faculty at UWRF, said Vasavada. "It was a very good experience."
-30-
Last updated: Thursday, 22-Apr-2010 16:07:47 Central Daylight Time