UW-RF Home > University Communications Home > This Month's News Releases
University Communications
For more information contact mark.a.kinders@uwrf.edu or brenda.k.bredahl@uwrf.edu.
Student Sleep-Out Focuses on Homelessness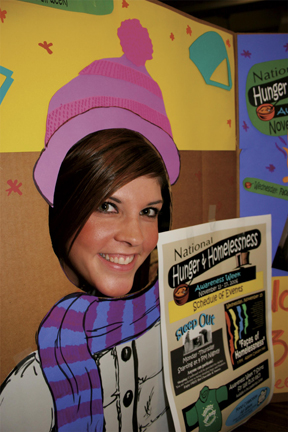 NOV. 10, 2006--The Campus and Community Cleanup Coalition at the University of Wisconsin-River Falls is organizing a sleep-out, presentations and other events to bring awareness to National Hunger and Homelessness Awareness Week, Nov. 13-17.
Starting 9 p.m. on Nov. 13, students and staff will sleep each night on the Hagestad Student Center lawn until the group's fundraising goal of $2,000 for the Pierce County Hunger Prevention Council, Minnesota Coalition For The Homeless, and the Simpson House in Minneapolis.
Student, staff and members of the community are invited to participate in any or all events. Sleep-out participants will be provided with a cardboard box for shelter. Anyone is welcome to participate, and participation is free. Organizers suggest that participants come prepared to brave nights of cold weather, including appropriate clothing, pillows and blankets. Sleeping bags will be provided.
A food drive will be conducted all week, with donation drop-offs in Johnson Hall and the Student Center.
On Nov. 15 a free presentation called Faces of Homelessness will illustrated the vivid images of homelessness through a slide presentation. The presentation is free, open to the public and starts at 7 p.m. in the Abbott Concert Hall of the Kleinpell Fine Arts Building. After the slide show several speakers will discuss their first-hand experience with homelessness.

This program is sponsored by the Campus and Community Fighting Hunger and Homelessness Organization and local businesses including Curves, the Colony Home, and Ben Franklin. Each business has pledged to donate one dollar for every individual who sleeps outside.

For more information about events or participation call Jill Morley at 715-425-4044.
Photo caption: Cassie Parsons, a junior majoring in elementary education from Red Wing, Minn., peers through a placard like the ones that will be set up throughout the UWRF campus to encourage participation in support of National Hunger and Homelessness Awareness Week.

-30-
Last updated: Thursday, 22-Apr-2010 16:07:46 Central Daylight Time