UW-RF Home > University Communications Home > This Month's News Releases
University Communications
For more information contact mark.a.kinders@uwrf.edu or brenda.k.bredahl@uwrf.edu.
Prof is Wisconsin Vet of the Year
By Kendra Knutson
UWRF University Communications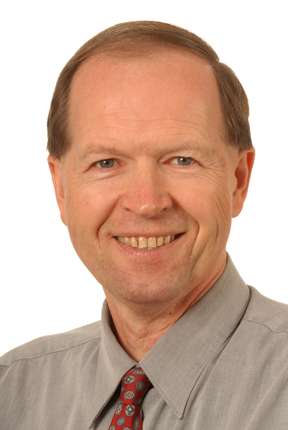 NOV. 10, 2006--A professor in the department of animal and food science at the University of Wisconsin-River Falls was recently presented with the Veterinarian of the Year Award from the Wisconsin Veterinary Medical Association (WVMA). This award is given to a veterinarian who has made significant contributions to veterinarians, veterinary medicine, and the veterinary profession in the state.
Larry Baumann, D.V.M., was nominated by a group of his colleagues within the Northwestern Wisconsin Veterinary Medical Association (NWVMA). He was selected to receive this prestigious award from among his 2,000+ colleagues and veterinarians in the WVMA.
Baumann had had to choose between two important events in October as the award ceremony was scheduled the same time as the University's new dairy learning center groundbreaking. "It was ironic," he said, as he had planned to be at the groundbreaking but found out just two weeks before that he had won this award.
Baumann attended WVMA's annual convention held in Madison to accept his award. In addition to recognition at the ceremony he received an engraved plaque. "It was very meaningful and a humbling honor," he said.
Baumann received his veterinary degree in 1978 from Purdue University. He has been active in the NWVMA for almost 20 years, taking on various tasks and leadership roles. The NWVMA has one of the highest memberships and is also one of the most active veterinary districts in the state.
Baumann says his continuing goals will be to help keep the Northwest veterinary district a strong, active, and vibrant organization. He would also like to continue educating others, as many veterinarians strive to do.
According to Baumann while he was growing up several of his mentors and people he looked up to received the veterinarian of the year award.
"This was very special to follow in their footsteps, I'm very honored," he said.
-30-
Last updated: Thursday, 22-Apr-2010 16:07:46 Central Daylight Time