UW-RF Home > University Communications Home > This Month's News Releases
University Communications
For more information contact mark.a.kinders@uwrf.edu or brenda.k.bredahl@uwrf.edu.
Fast Horse to Bring Native Tradition to UWRF Nov. 14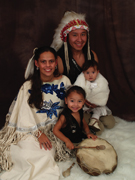 NOV. 3, 2006--Fast Horse, a Minnesota-based Lakota performing family, is the next act in the Wyman Series at the University of Wisconsin-River Falls at 8 p.m. Tuesday, Nov. 14 at the North Hall Auditorium.
Skillfully interweaving story, music and dance with history and present perspectives, the Fast Horses entertain and educate audiences of all ages. The performance is free for UWRF students and $5 for adults and $3 for 18 and under. Tickets are available at the door starting at 7 p.m.
Fast Horse performs the Northern Plains Traditional Woman's Dance, the Stomping Buffalo Dance, the High-Flying Eagle Dance, and the Roving Round Dance as well as a mixed array of rare and common Native American songs and dances.
Tribal people around the world have always expressed their subconscious through song and dance by bringing their dreams into reality by painting, sculpting, beading, singing and dancing. As accomplished dancers and singers, Fast Horse preserves their heritage through the old ways of their culture.
Native American culture is portrayed through a living history of the 1800s by utilizing outfits, as well as tools and crafts, which are made traditionally by hand. The performance features a presentation on the holistic lifestyles of the native influence in the fur trade era and focuses on the evolution of Native music and dance, as well as its influences on, and similarities with other cultures.
They Wyman Series is sponsored the UWRF Entertainment and Arts Committee and the Diversity Awareness Committee, both part of the Leadership Development and Programming Board. Funding for the series is provided by segregated student fees. For more information, contact student services and programs at 715-425-4444.
-30-
Last updated: Thursday, 22-Apr-2010 16:07:46 Central Daylight Time