UW-RF Home > University Communications Home > This Month's News Releases
University Communications
For more information contact mark.a.kinders@uwrf.edu or brenda.k.bredahl@uwrf.edu.
Observatory Sessions Set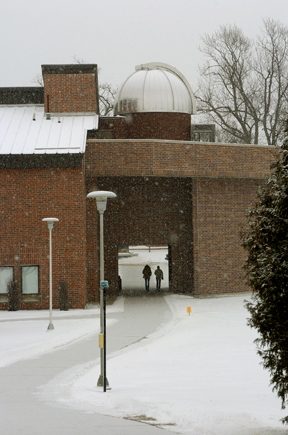 NOV. 3, 2006--Learn the origins of star names--astronomical, that is--at the next open viewing session hosted by the physics department at the University of Wisconsin-River Falls.
Associate Professor of physics Eileen Korenic will present "A Star by Any Other Name--Star Name Origins and Star Registries" at 7:30 p.m. with a telescope viewing to follow at 8 p.m. on the first clear night during the week of Nov. 13-16.
The talk will be held in Room 271 of Centennial Science Hall at UWRF. The viewings take place on the 3rd floor outside deck of the same building; viewings typically run until 10 p.m.
All events are free, open to the public and suitable for all ages. Dressing for the weather is advised. Interested people are advised to check the UWRF physics department Web site (www.uwrf.edu/physics) and click on "observatory" or call 715-425-3560 on the night to see if skies are clear enough.
Future talks and viewings are set for the first clear night of Dec. 11-14. The topic will be "The Star of Bethlehem."
For more information, contact by e-mail or telephone Korenic at eileen.korenic@uwrf.edu or 715-425-3560 or Glenn Spiczak at glenn.spiczak@uwrf.edu or 715-425-3560. Contact Spiczak via e-mail to be placed on the e-mail viewing notification list.
-30-
Last updated: Thursday, 22-Apr-2010 16:07:45 Central Daylight Time