UW-RF Home > University Communications Home > This Month's News Releases
University Communications
For more information contact mark.a.kinders@uwrf.edu or brenda.k.bredahl@uwrf.edu.
UWRF Student Named National Beef Ambassador
By Leah Johnson
UWRF University Communications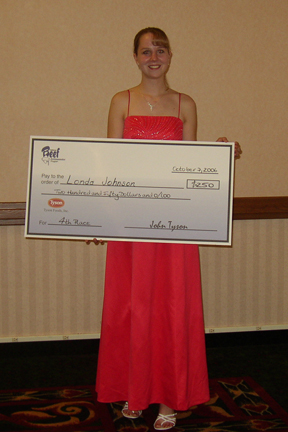 NOV. 3, 2006--Fueled with a passion for sharing her agricultural knowledge with others, Londa Johnson, a freshman at the University of Wisconsin-River Falls, was recently named a National Beef Ambassador. Johnson earned the right to compete in the national competition after being named the Minnesota Beef Ambassador last fall in conjunction with the Minnesota Beef Expo.
The national competition was held in Minneapolis in October with more than 20 state beef ambassadors competing for five national ambassador spots. The contestants were judged on a five to six-minute speech and a one-on-one interview with a panel of judges.
"It is an honor and a privilege to represent the agricultural industry on a national stage," said the 18-year-old Minnesota native. Along with being named the fourth place National Beef Ambassador; Johnson received a $250 scholarship.
As a National Beef Ambassador, Johnson will travel the country promoting agricultural as well as the beef industry. "It's pretty amazing the opportunities that are available to educate the public about the impact that the agricultural industry has," said Johnson. That education is the reason that Johnson choice to run for beef ambassador.
"Sometimes when you are involved in the agricultural industry, you take for granted that not everyone knows and understands what happens on a farm," Johnson said. Hoping to help bridge that knowledge gap, Johnson will use her agricultural background to inform the public through her role as a National Beef Ambassador.

"I just want to tell 'our story'-the story of the agricultural industry," she said. Knowledge of agriculture is something that Johnson definitely possesses. She grew up on a 110-cow Holstein and Jersey farm in rural La Crescent, Minn., and was active in both 4-H and FFA throughout her youth.
"I loved growing up on a farm and just want to share that love with the public," she says. The family farm consists of 550 acres and raises all their replacement heifers along with finishing out the dairy steers.
Johnson is majoring in dairy science with a pre-vet option hoping to one day be a large animal veterinarian.
-30-
Last updated: Thursday, 22-Apr-2010 16:07:45 Central Daylight Time