UW-RF Home > University Communications Home > This Month's News Releases
University Communications
For more information contact mark.a.kinders@uwrf.edu or brenda.k.bredahl@uwrf.edu.
Food Microbiology Symposium Attracts Global Attendees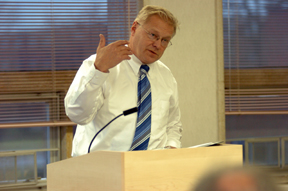 Nov. 3, 2006--About 100 people from academia, the food industry and food regulatory agencies from around the world attended the 26th annual University of Wisconsin-River Falls Food Microbiology Symposium in mid-October
Graduate students and industry delegates came from an array of countries including: Netherlands, France, Africa, Canada, and England, said organizer P.C. Vasavada, a professor of food science at UWRF.
Several key speakers discussed ways to approach recent food-borne pathogen issues. Dr. Roy Betts, of the Campden & Chorleywood Food Research Association, Chipping Campden, U.K., was the opening speaker. He described the use of rapid detection methods to assure food safety.
Another highlight of the symposium was Wisconsin's Secretary of Agriculture Rod Nilsestuen, a 1970 graduate of UWRF, who discussed the food situation in Wisconsin and what needs to be done in order to solve problems like the spinach outbreak and raw milk safety issues.
Dr. Michael Robach, vice president of corporate food safety and regulatory affairs at Cargill, Inc. in Minneapolis, was the symposiums banquet speaker. He explained issues affecting the global food industry and the future outlook of the industry.
One interesting new topic on the agenda was the use of biosensors and nanotechnology in rapid detection of pathogens, in which sensors are able to pick up a very low level of bacteria very quickly.
Several attendees also had the chance to visit the 3M Microbiology Customer Innovation Center to meet 3M scientists and hear the latest developments and technologies in 3M's products.
For more information on this year's and next year's symposium, contact Vasavada at 715.425.3150.
-30-
Last updated: Thursday, 22-Apr-2010 16:07:45 Central Daylight Time