UW-RF Home > University Communications Home > This Month's News Releases
University Communications
For more information contact mark.a.kinders@uwrf.edu or brenda.k.bredahl@uwrf.edu.
Horticulture Society Helps Hudson Middle Schoolers with Gardens
By Kendra Knutson
UWRF University Communications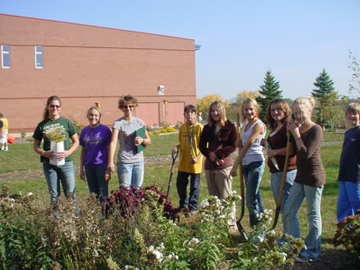 This fall, members of the University of Wisconsin-River Falls Horticulture Society have teamed up with Hudson Middle School students in a joint effort to spruce up the school's gardens.
Seventh and eighth graders in Cindy Lander's classes have enjoyed the project so far, said Michaela Molter, president of the UWRF Horticulture Society. "The kids take to it," said Molter, a senior majoring in horticulture landscape design and society president who is from Cadott, Wis. "It's fun, hands-on, and they can get their hands dirty."
Landers contacted the Horticulture Society in hopes that the project would be educational and fun for both the middle school students and the college students, said Molter. The project has been going well and a strong partnership exists.
"I love Cindy's idea and enthusiasm about the project and know that it will be beneficial to students currently, as well as in the future," said Jessica Schwarz, a senior from Bangor, Wis. Schwarz and Katherine Branch, a senior from Eau Galle, Wis., are currently working on a design for a perennial garden. Both women are majoring in horticulture landscape design.
The project began in early October when a group of UWRF students went to the middle school to discuss new layout plans and began digging and removing plants. The project is on hiatus with the onset of cold weather but the students will continue with their plans in the spring, as early as April.
According to Molter, plans are to design and assemble an irrigation system, install a pond, and plant perennial divisions around the south side of the school in the quarter of an acre courtyard area.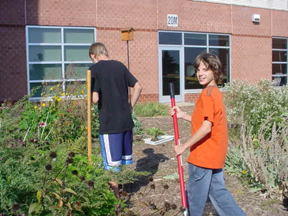 Both Landers and the club members hope that the middle school students will learn proper planting procedures, installation processes, and plant identification, as well as how to make plant cuttings. "It's an educational experience for them and a way for us to engage our knowledge," said Molter.
Six members of the Horticulture Society have been involved in the project. Schwarz and Branch have been designing plans for the perennial garden. "We will be using the plants that are already there, but using placement so the students may effectively view, observe, touch, and learn from the plants," said Schwarz.
Molter, Tiffany Nohl, a freshman horticulture major from Manitowoc, and Chelsea Stimson, a senior horticulture major from Lindstrom, Minn,. have been planning the installation of the pond and irrigation system. Nick Kuehl, a senior horticulture major from Kewaunee, has also assisted. Molter said other members are willing to contribute their labor in the spring.
The Horticulture Society members enjoy giving back to the community, so Molter thought this would be the perfect opportunity for them to serve the public while also gaining some helpful career experience.
"This project allows us to work on a design for our portfolios. We are able to use what our teachers have taught us," said Branch. "We are able to enhance the minds of younger children. It also provides a great atmosphere in which students learn."
The Horticulture Society is a very active student organization advised by horticulture Professor Terry Ferriss within the College of Agriculture, Food and Environmental Science. The club is affiliated with the Mid-America Collegiate Horticulture Society and the American Society for Horticultural Science, which has recognized UWRF's club as the Best Large Collegiate Horticulture Club in the nation, based on member interest and participation. Membership is open to any student with an interest in ornamental plants, landscaping, turf, fruit/vegetables, or gardening in general.
-30-
Last updated: Thursday, 22-Apr-2010 16:07:43 Central Daylight Time