UW-RF Home > University Communications Home > This Month's News Releases
University Communications
For more information contact mark.a.kinders@uwrf.edu or brenda.k.bredahl@uwrf.edu.
UWRF Students Participate in ROTC
By Brian Hogenson
UWRF University Communications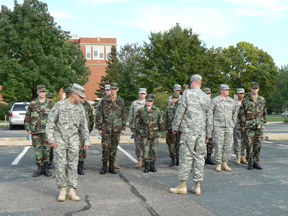 OCT. 30, 2006--For the first time in several decades, the Army Reserve Officers Training Corps (ROTC) has established a presence at the University of Wisconsin-River Falls.
Along with cadets from UW-Stevens Point, UW-Stout, and UW-Eau Claire, 11 UWRF students are part of the Army ROTC Stevens Point 'Northwoods' Battalion, consisting of nearly 80 students from the four campuses.
Army ROTC was established initially in the 1980s at UW-Stevens Point and branched out to UW-Stout last year, and this year includes students from UW-Eau Claire and UWRF.
The ROTC gives students the opportunity to complete officer training while attending college. According to LTC JoAnne Parks, assistant professor of military science at UW-Stevens Point and coordinator of the program for students at UWRF, the goal for students is to get an education while improving their military skills and training to become an officer.
"There's lots of emphasis on leadership and personal growth," Parks said. "That's first and foremost what we teach."
Military science is currently offered as a minor at UW-Stout. There is no military science program at UWRF at this time. To participate in the ROTC program at UWRF, students register through UW-Stout for military science courses.
Students who graduate from the ROTC program will be commissioned as a 2nd Lieutenant, placing them on the ground floor of officer ranks.
Unlike the Army National Guard, in which a student enlists as a private and serves one weekend a month with an additional two weeks of training annually, ROTC students are not enlisted. When an ROTC student signs a contract, he or she owes the military a commitment of eight years at the completion of training. This eight-year commitment can be served in a National Guard unit in the reserves or on active duty.
Students under contract in the ROTC program receive a stipend every month throughout the school year. Stipends range from $350 per month as a freshman to $500 per month as a senior.
Fundamental military science courses are open to every student. Once students reach upper level courses, however, they must decide whether they will commit to military service.
According to Parks, the goals of the ROTC program are about more than learning military maneuvers and becoming an officer.
"My goal is that you're going to leave with life skills for personal time management, goal setting, stress management, and staying fit," Parks said.
While in the ROTC program, cadets learn about the different military branches and their traditions. The two major components are physical training and most importantly, leadership labs.
Physical training is every Monday, Wednesday and Friday morning. The training consists of running, push-ups, sit-ups, and sports such as basketball. There is an emphasis on teamwork, camaraderie and bonding.
During the leadership labs the cadets practice skills that they've learned in the classroom such as proper use of maps, small weapons training, drill, moving as a squad, and other maneuvering tactics. The leadership labs are designed as a culmination of what the cadets have learned in the classroom.
Parks said the most difficult aspect of being a cadet in ROTC is the time commitment, especially with the busy schedules of most college students. There's an hour in the classroom, a two-hour lab, and three hours per week of physical training to earn only one or two credits.
"It's not for everybody," Parks said.
One weekend a semester, the cadets travel two hours east to Fort McCoy. At the fort the cadets complete confidence and navigation courses, ride in a Blackhawk helicopter and work on rappelling from a 200-foot tower.
"It's a full weekend," Parks said. "We have a lot of fun."
While the military has fallen short of recruiting goals nationally during recent years, the ROTC program has not experienced similar difficulties, said Parks.
"The ROTC has been real steady; there's a good attitude in the area," Parks said. "It's a way to get a good education and serve your country."
UWRF hosted an ROTC program from 1968 to 1971 with a staff of eight. Classes were taught at the National Guard Armory in River Falls through the University of Minnesota.
Parks hopes military science will eventually become a minor at UWRF, as it is at UW-Stout. Provost Charlie Hurt, vice chancellor for academic affairs, said there is some interest to investigate establishing a minor at UWRF, although the formal process has not started.
The UWRF Faculty Senate and ROTC representatives met recently to discuss the process to explore the goals of the ROTC program.
"It's still in the preliminary state, " said Faculty Senate Chair Wes Chapin. "Nothing formal has actually occurred other than conversations. I'm sure we'll be hearing from them in the next couple of weeks with a proposal for action."
According to Chapin, the process for a program to be established begins with an evaluation of the need for the program, the resources available and the environment it would require. The process requires approval by the Faculty Senate, Chancellor Don Betz, and the UW System Board of Regents.
"Every program proposal is different," Chapin said. "It's not unusual for a program to take many months, a year, and in some cases several years, before they go from initiation to implementation."
Chapin said that with so many different perspectives on campus, ROTC could become a controversial issue.
For example, a new student group at UWRF, called the Socialist Alternative, included in a recent meeting agenda the goal of "eradicating the Army Reserve Officers Training Corps program from campus."
A controversy at UW-Stout ensued when its chancellor issued a decision banning ROTC from campus due to his views that the program went against the university policy on diversity. Chancellor Charles Sorenson later reversed the decision after considering the implications for UW-Stout because banning the program violated UW System Board of Regents policy and federal law.
Whether a formal ROTC program has a future at UWRF or if military science will become a minor remains to be seen.
"Right now it's very early, so I wouldn't be able to make any predictions," Chapin said.
-30-
Photo caption: ROTC students from UWRF and UW-Stout ROTC practiced the drill, ceremony and leadership lab in the parking lot west of North Hall. The group, part of the Northwoods Battalion, which includes UWRF, UW-Stout, UW-Stevens Point, and UW-Eau Claire. The group was led by LTC JoAnne Parks, the ROTC officer on campus, and SFC James Callon from UW-Stout and LTC Scott Bolstad, a professor of military science at UWSP.
Last updated: Thursday, 22-Apr-2010 16:07:43 Central Daylight Time