UW-RF Home > University Communications Home > This Month's News Releases
University Communications
For more information contact mark.a.kinders@uwrf.edu or brenda.k.bredahl@uwrf.edu.
Prof Teaches Workshop in Equador
By Kendra Knutson
UWRF University Communications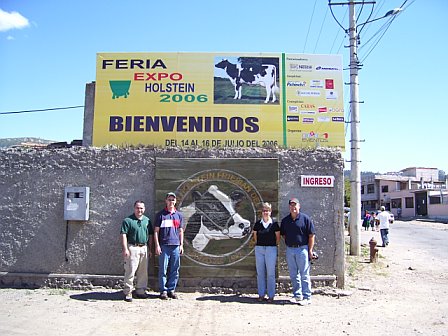 OCT. 13, 2006--Imagine farming at a 3,500 meter altitude in a mountain valley, milking cows in a tropical rainforest temperature, or going outside early morning and watching the tide come in on your coastal farmland. These are exactly the three types of environments Ecuadorian dairy industries face, says Gregg Hadley, a professor of agricultural economics at the University of Wisconsin-River Falls.
With technology similar to that of the United States in the late1970s to early 1980s and difficult land conditions, this country is anxious to learn new dairy management tactics and find out ways to be more competitive within the industry, said Hadley.
So when Hadley and three UW-Madison colleagues, including Dave Combs, Paul Fricke, and Pam Ruegg, ventured down to Ecuador to teach dairy workshops this past summer, many of the country's dairy farmers and stakeholders were excited and ready to begin learning.
Topics taught by Hadley and his colleagues included: the 2006 world financial performance outlook for dairy farms, the financial and production records required by dairy farms, how to assess the profitability of a dairy farm, and the financial implications of dairy modernization and expansion. In addition, the UW-Madison faculty members gave four seminars each in their specialty areas of nutrition, reproductive physiology and animal health.
In July they held an on-farm instruction at a 140-cow dairy with a 3,500-meter altitude.
Hadley said one major difference from dairy farming in the United States is that the managers of these farms believe Ecuadorian Holstein cattle are not acceptable for these altitudes, so they milk Normande cattle instead. Ecuadorian Holsteins have been used before and seemed to be susceptible to pulmonary edema at those altitudes, he said.
About 120 people attended the workshop with the majority coming from Ecuador.
Other participants included Peruvian, Argentine and Columbian nationals who manage dairies in Ecuador and Peru.
"While they will never be the largest dairy nation in the world, they do want to be very competitive and were very hungry for dairy management knowledge," said Hadley.
In mid-July, the Ecuadorians took Hadley and his colleagues to their country's National Dairy Livestock Exposition.
They toured their host's family farm on July 22. "We think it is the highest (altitude) commercial dairy in the world," said Hadley.
They also toured the world-famous Galapagos Islands.
-30-
Photo, above: UWRF Profesor Gregg Hadley (UWRF), UW-Madison professors Paul Fricke, Pam Ruegg, and David Combs in front of the Livestock Expo Center.
-30-
Last updated: Thursday, 22-Apr-2010 16:07:40 Central Daylight Time