UW-RF Home > University Communications Home > This Month's News Releases
University Communications
For more information contact mark.a.kinders@uwrf.edu or brenda.k.bredahl@uwrf.edu.
Outdoor Installations Brighten Campus Grounds
By Meghan Dusek
UW-RF University Communications
[photos]
OCT. 13, 2006--Neither rain, nor sleet, nor snow could hamper the University of Wisconsin-River Falls 15 th Annual Outdoor Art Installations, which appeared on the campus from Oct. 9-13.
Each fall the campus grounds come alive with colors, textures and objects. This year with 38 installations and more than 50 students and professors participating, the event has clearly become a campus institution.
Despite the destruction of some "fair weather" pieces, overall the art department's effort to connect with the campus as a whole succeeded in varying ways, say the organizers, which included several art department faculty.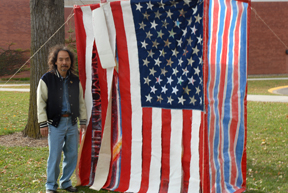 "The outdoor nature of the exhibit brings the creative works 'closer' to the viewers who might not otherwise visit the artwork if they were displayed in a gallery inside some building," says Peter Mak, an associate professor of the art department. "Many of the artwork are site-specific and the artists 'interact' and design their work with the environment and nature in mind."
This was evident in Mak's piece, "The Immigrant," between the Kleinpell Fine Arts Building and the library. "It is an image about people from all over the world coming to this beautiful land of ours in search of liberty, freedom, a better life and dreams," Mak said.
The installations work as both a teaching tool and a showcase for all involved. Art department lecturer Meg Vossler has participated with her Introduction to Art class (art 100) for the past five years. "The students are always amazed by the high quality of their group installation, and they get so much positive feedback that it really helps them recognize their own creativity," said Vossler.
Professor Lynn Jermal recognizes the learning potential in the projects, specifically the "Pied Piper" tape mural on the Kleinpell Fine Arts Building. "The group of students ... had to grapple with multiple individual ideas, compromise and work to design and execute one piece as a team," she said. The piece was inspired by a group of artists who do "tape art'' in hospitals, disaster sites and community events as a healing tool. "Maybe theirs has the power to give us a skip in our step on a day we are 'dragging' our body across campus," Jermal muses.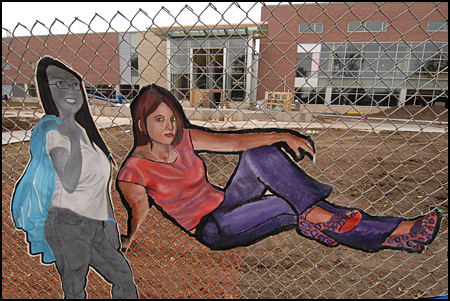 As always, art is an exchange--the artist's expression is designed to elicit reactions. "Though this project we are trying to peak aesthetic interest and change the space, and perhaps educate the campus about the range of visual ideas," Jermal explains. "But a closed mind can be impervious to new insights, and if a student automatically rejects all pieces every year instead of giving each the contemplation required to understand the nature of art, any education and possibly joy or communication a piece has to offer is lost on that viewer."
-30-
Last updated: Thursday, 22-Apr-2010 16:07:39 Central Daylight Time