UW-RF Home > University Communications Home > This Month's News Releases
University Communications
For more information contact mark.a.kinders@uwrf.edu or brenda.k.bredahl@uwrf.edu.
Stem Cells Topic of Community Classroom Oct. 26
By Meghan Dusek
UW-RF University Communications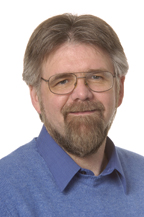 OCT. 13, 2006--The second presentation of the University of Wisconsin-River Falls Community Classroom will explore the biology of stem cells on Thursday, Oct. 26 from 7 to 8:30 p.m. at the River Falls Public Library.
The issue of the application of stem cells in research is a touchy subject that often results in polarization of opinions.
UWRF biology Professor Timothy Lyden will present "Tissue Engineering & Stem Cell Biology at UW-River Falls" and explore the facts versus the misconceptions on the subject as well as highlight applications of the research on campus.
"I hope to help people understand that the field is not actually new, that there are many types of stem cells, not just human embryonic cells," Lyden says. "I also hope to communicate that that basic stem cell research in general is leading to revolutionary insights into our understanding of how cells, tissues and organs develop, grow and repair themselves throughout our lives."
The talk is about more than stem cells. "I hope to give people a basic idea of what 3D cell culture is all about and how we are using it at UWRF, along with fetal stem cells from chickens to develop artificial organs in culture."
While speculation abounds as to what stem cell research could accomplish someday, as a working scientist Lyden notes the need to examine what information there is and what the implications are.
"Perhaps the most interesting and potentially huge changes are coming in the form of new insights into the development of cancers," Lyden says. "What is very exciting here is that if treatments are designed to specifically kill the malignant stem cells, then complete cure for a tumor should become possible and perhaps even fairly simple."
However, due to the cultural polarity on the subject, such innovations may be long in the coming or not at all. Lyden says that polarity stems from an improperly informed populace and the political gain that comes from over-simplification.
A kind of give-and-take needs to occur, Lyden says: "Politicians need to be well-informed and scientists need to be effectively communicating with them to ensure that debates about science are actually based on real science and not some other agenda."
While the political climate around the subject is icy at best, Lyden hopes to go beyond that and demonstrate how exciting the science is as well as how "...students at UWRF are involved in learning, not just the ethical and political aspects of stem cell biology, but also the practical scientific skills and knowledge to become tomorrow'sleading scientists and technicians in this important field of inquiry."
Lyden is an assistant professor of anatomy and physiology at UWRF. He has more than 15 years experience in the field of developmental and reproductive cell biology.
The Community Classroom Series, sponsored by the UWRF College of Arts and Sciences and the Office of Outreach and Graduate Studies, is designed to help people explore the vital concerns of the contemporary world. Presentations are informal, free, and open to the public. No reservations are required to attend.
The UWRF outreach office provides lifelong learners with academic and professional development programs that are practical, flexible, convenient, and affordable. A complete list of programs and registration information is available at www.uwrf.edu/outreach or may be obtained by calling the UWRF outreach office at 1-800-228-5607 or 715-425-3256 or e-mail outreach@uwrf.edu .
-30-
Last updated: Thursday, 22-Apr-2010 16:07:39 Central Daylight Time