UW-RF Home > University Communications Home > This Month's News Releases
University Communications
For more information contact mark.a.kinders@uwrf.edu or brenda.k.bredahl@uwrf.edu.
Grant Helps Profs Think About Student Thinking
By Meghan Dusek
UW-RF University Communications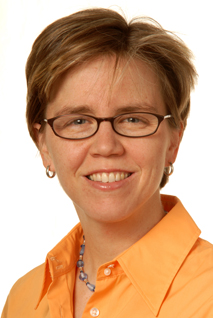 OCT. 9, 2006--Thinking about students thinking about their own thinking? If you had thought of it first, you might be getting a grant for it.
UW-River Falls psychology Professor Cynthia Kernahan, in conjunction with Terry Karis at UW-Stout and Nancy Chick and Cary Komoto at UW-Barron County, was awarded $39,829 by the UW System Office of Professional and Instructional Development to research student thinking in diversity courses.
This past summer was devoted towards developing materials and planning the study. "Because we are coordinating four instructors over numerous classes, this took quite a bit of time," Kernahan explains. "We also have a D2L (an online learning) site that had to be further developed, and we had to decide about things like discussion questions and guidelines for our classes, the plan for analyzing data, etc."
The grant has allowed for initial data gathering and student input. "At this point we are still collecting information from students and analyzing the data," Kernahan says. "This will continue throughout the academic year and then we will work on writing up the results next summer."
With diversity courses an integral part of campus curriculum, it makes sense for students to examine their thought processes and why they think they way they do, she says. "We all teach diversity courses at our respective campuses and were interested in how teaching students to 'think about their thinking' might enhance their learning." The grant focuses around one central question: What happens when students engage in metacognitive reflection on their own and their classmates' learning in diversity courses? The potential implications of the study transcend borders and will prove highly beneficial to administrators and instructors putting together coursework as well as the students themselves, says Kernahan.
"We hope to publish it," Kernahan says. "We certainly plan to use our findings to inform our teaching and potentially change the way we teach. Part of the reason we were all interested in examining this is because all of us had moved toward this in our classes--that is, we had all begun to informally focus on teaching in a way that helps students to 'think about their thinking.' Thus, this project was a way for us to confirm its importance."
-30-
Last updated: Thursday, 22-Apr-2010 16:07:38 Central Daylight Time