UW-RF Home > University Communications Home > This Month's News Releases
University Communications
For more information contact mark.a.kinders@uwrf.edu or brenda.k.bredahl@uwrf.edu.
Absurdist Comedy Promises Laughs
By Meghan Dusek
UW-RF University Communications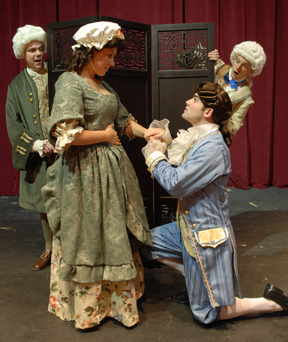 OCT. 6, 2006--The upcoming University of Wisconsin-River Falls theater production, "She Stoops to Conquer," aims to entertain as well as introduce theater-goers to new faces and say goodbye to some familiar.
"She Stoops to Conquer" was written by Irish dramatist Sir Oliver Goldsmith as a "laughing comedy" in the 18 th century, with the aim of countering the popular but formulaic "sentimental comedies" that held sway at the time.
Such sentimental comedies are analogous to today's proliferation of "chick flicks," according to director Gorden Hedahl, former dean of the College of Arts and Sciences and a theater professor.
"With his brilliantly complicated plot based on misunderstandings, practical jokes, mistaken identities and commentary on the customs and manners of the time, Goldsmith created a new model for comedies," said Hedahl. "All the strands of the plot are wonderfully tied up and tied together."
As a testament to the play's popularity, it has been consistently produced around the world since its premiered in London more than 200 years ago.
"She Stoops to Conquer" is the last appearance of theatre veterans Mike McKay (of Hibbing, Minn.) playing Charles Marlow, the younger; and Jordan Cassavant (of Mahtomedi, Minn.) as Sir Charles Marlow, both of whom graduate in December. The cast also includes:
Keith Carl, New Richmond, Wis., as Mr. Richard Hardcastle;
Ambrosia Webb, Hudson, Wis., as Mrs. Dorothy Hardcastle;
Joe Burger, Menomonie, Wis., as Tony Lumpkin;
Dana Clausen, River Falls, Wis., as Miss Kate Hardcastle;
Kristy Reid, Waconia, Minn., as Miss Constance Neville;
Al Broeffle, Cloquet, Minn., as George Hastings;
Spencer Wicklund, Frederic, Wis., as Diggory;
Ben Tatro, Stillwater, Minn., Slingo, the landlord;
Beth Van Kampen, Stillwater, Minn., as maid Dolly;
Krissie Weckman, Shakopee, Minn., as maid Polly;
Kai Abrahamson, New Richmond, Wis., as servant James;
Brian Bishop, Lodi, Wis., as servant Roger;
Brittany Engler, Bristol, Wis., as servant Annie;
Marc Berg, Rosemount, Minn., as Thomas and tavern fellow Jack Slag;
Justin DeLong, River Falls, Wis., as William and tavern fellow Dick Muggins;
Mark Bradt, Maplewood, Minn., as Jeremy and tavern fellow Amnidab;
Elissa Stephens, River Falls, Wis., as Betsy and bar maid;
Mark Bergen, Shakopee, Minn., as tavern fellow Tom Twist.
Hedahl has directed more than 50 productions from a range of theatrical periods and styles as well as has experience in several areas of theatre, as a drama and film-making consultant, and a guest instructor for schools and workshops.
The production runs Oct. 19-21 and Oct. 26-28 at 7:30 p.m. Tickets, from $7 to $12, are available by calling the box office at 715-425-3114, or 800-228-5423 or visit www.uwrf.edu/scta. The box office is open two weeks before the first performance from 10 a.m. - 3 p.m. Monday through Friday and one hour before each performance.
-30-
Last updated: Thursday, 22-Apr-2010 16:07:37 Central Daylight Time