UW-RF Home > University Communications Home > This Month's News Releases
University Communications
For more information contact mark.a.kinders@uwrf.edu or brenda.k.bredahl@uwrf.edu.
Egypt Tour Info Meeting Set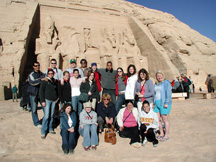 SEPT. 29, 2006--UW-River Falls is offering students, faculty and the general public the opportunity to embark on a journey to the land of pharaohs and pyramids during J-Term 2007.
An information meeting about the Jan. 9-21 trip will be Tuesday, Oct. 17 at 6:30 p.m. in KFA B107 at UW-River Falls.
The trip includes a seven-night Nile Cruise as well as visits to such cities as Cairo, Giza, Luxor and Aswan. Sitse to be visited include the Cairo Museum, Sakkara, Old Cairo, Islamic Cairo, Karnak and Luxor Temples, Valley of Kings and Queens, Deir el Bahri and Medinat Habu, Aswan High Dam, Philae Temple, Elephantine and Kitchener Islands, Abu Simbel, and San Simeon.
This all-inclusive package includes airfare, full room and board, entry fees, all guiding, tips and taxes, visa, and study guide.
The trip is directed by UW-RF art history instructor Steven Derfler of UW-RF and Educational Resources, Inc.
A historian and archaeologist, Derfler has researched ancient civilizations and participated in excavations for more than two decades. He has also been involved with educational institutions in Israel and the Midwest, and his articles and reviews have been published in magazines and newspapers such as the Israel Exploration Journal and the Middle East Review. For more information, contact Dr. Steven Derfler at UW-RF: (715) 425-0639 or steven.l.derfler@uwrf.edu .
-30-
Last updated: Thursday, 22-Apr-2010 16:07:35 Central Daylight Time