UW-RF Home > University Communications Home > This Month's News Releases
University Communications
For more information contact mark.a.kinders@uwrf.edu or brenda.k.bredahl@uwrf.edu.
Fundraiser for Orphan School Planned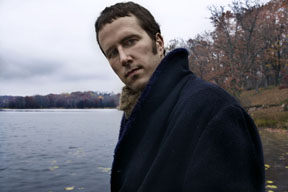 SEPT. 22, 2006—Music will fill the outdoor amphitheatre at 4 p.m. on Oct. 7 at the University of Wisconsin-River Falls to raise raise funds for a school for orphans infected with HIV/AIDS in Kampala, Uganda.
The line-up includes local musicians Haley Bonar, the Exchange, the Alarmists and Consolation Champ with headliner Mason Jennings (right) at 8 p.m. at the Wall Amphitheatre on campus or Knowles Center if rain.
Tickets are $15 for UW-RF students and $20 for thepublic; for ticket information call 715-425-3911.
The concert, called "The Big Event," is part of the mission of Building Tomorrow, is a nationwide nonprofit initiative encouraging philanthropy among college students by raising awareness and funds to build and support educational infrastructure for vulnerable children affected by poverty and HIV/AIDS in sub-Saharan Africa. Archbishop Desmond Tutu serves as Building Tomorrow's honorary chairperson.
Local sponsors for the event include the UW-RF Student Global AIDS Campaign and the UW-RF Student Entertainment and Arts Committee.
Building Tomorrow Executive Director George Srour will talk with concert-goers, and the event will feature educational booths for HIV/AIDS awareness and volunteer opportunities in the Twin Cities area. Through the efforts of events like "The Big Event, organizers say that American college students will witness the impact of their actions and gain a greater understanding of a commitment to global change.
According to the Building Tomorrow organization, 42 million children in sub-Saharan Africa have no school to attend. In Uganda, only 18 percent of children have the opportunity to continue to secondary education, and more than 1.1 million children are classified as orphans or vulnerable children are not enrolled in primary school. Building Tomorrow searches for and purchases a plot of land within close proximity of potential students. With the help of the local community,the group constructs an eight-room school with a kitchen, toilets and soccer field.
To fund the construction of one school, UW-RF will raise $32,000 and the local community in Kampala will raise $8,000.
Building Tomorrow opened its first school, Meeting Point Kampala, in April 2006 with money collected by college students in the fall of 2004. Since then, the initiative has grown with more than 450 students participating in activities sponsored by nearly 10 university chapters across the country.
For more infomation, contact Brent Turner in the UW-RF Leadership Center, 715-425-4444.
-30-
Last updated: Thursday, 22-Apr-2010 16:07:34 Central Daylight Time