UW-RF Home > University Communications Home > This Month's News Releases
University Communications
For more information contact mark.a.kinders@uwrf.edu or brenda.k.bredahl@uwrf.edu.
UW-RF Rodeo Adds Western Flavor to the Upper Midwest
By Kendra Knutson
UW-RF News Bureau
[photos]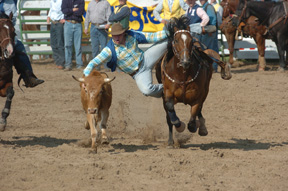 SEPT. 22, 2006--Rodeo fans shined up their boots, squeezed into their Wranglers, put on their cowboy hats and kicked up their heels to attend the 42 nd annual Falcon Frontier Days Rodeo on September 15-16 at campus Lab Farm No. 1.
The intense excitement could be felt among the audience as frantic steers ran from galloping horses. Cowgirls leapt from their speeding horses in the goat-tying event. As rodeo enthusiasts clapped and cheered for more, cowboys could be seen grasping tightly onto bucking bulls in their efforts to receive the eight-second count.
And these were just a few of the breathtaking events witnessed by attendees which also included the crowning of 2006 UW-River Falls Rodeo Queen Amanda Johnson, an animal science major from Kendall, Wis. The rodeo would not be successful without the help of the many sponsors and volunteers, according to the UW-River Falls Rodeo Club.
Results
In the men's team competition, National American University received first place with a powerful 1,110 points, following them was Dickinson State University with 700 points, and South Dakota State University rounding out the top three.
In women's team competition, it was also National American University in first with an impressive 620 points, compared to second place Iowa Central Community College's 180, Dickinson State University (DSU) came in third with 160 points. The UW-RF women came in fourth respectively.
In the men's all-around, first through third place went to Tyler Thiel, Deon Dorsey, and Nick Guy all of National American University (NAU).
NAU also dominated the women's all-around with the top two spots going to Jessica Painter and Jena Lien consecutively. Following in third place was Marcie Locken of South Dakota State University (SDSU).
Oscar Heidler and Jesse Cotton of NAU captured the first and second spots in the saddle bronc riding event. Taking third was Tatum Longbrake of DSU.
In the bareback riding category it was Mitchell Technical Institute's Austin Janis raking in the most points, followed by DSU's Zane Forster. Bringing home third was SDSU's Joseph Gunderson.
Only one cowboy in the bull-riding event had a clean 8-second ride and that was Ian Pennington of DSU.
The top three rankings in tie-down roping went to NAU's Tyler Thiel, Adam Mueller, and Deon Dorsey respectively.
Nick Guy of NAU won the steer-wrestling event, followed by Iowa Central Community College's Brandon Volker. Receiving third was Seth Murphy, DSU.
Earning first in the team roping competition was the team of Western Dakota Technical Institute's Lee Olsen and Dickinson State Universities Chase Carson. Coming in second was the duo of Tyler Thiel and Deon Dorsey, both of NAU.
Barrel racing her way to the top was Krista Minow, NAU, with Amy Holmes of Iowa Central Community College (IACCC) coming in second. Taking the rein of third was UW-RF student Rachel Tiedeman, animal science major from Rio, Wis.
In breakaway roping, Molly Bates of IACCC received first followed by Kelli Schumacher, SDSU. Rounding out the pack in third was Candace Thompson of Nebraska College of Technical Agriculture.
Jena Lien of NAU won the top spot in goat tying. Second place was awarded to Dickinson State's Elizabeth Murphy, trailed by NAU's Jessica Painter in third.
Established in 1964 by the late Gerhard (Doc) Bohn, the University Rodeo one of the only student rodeos east of the Mississippi. The rodeo team competes in about 10 rodeos across the country per year, and the rodeo is part of the National Intercollegiate Rodeo Association and one of 14 collegiate rodeos competing in the Great Plains region. The NIRA has more than 3,500 student members and 137 member schools and universities, competing in more than 100 rodeos a year.
-30-
-30-
Last updated: Thursday, 22-Apr-2010 16:07:33 Central Daylight Time