UW-RF Home > University Communications Home > This Month's News Releases
University Communications
For more information contact mark.a.kinders@uwrf.edu or brenda.k.bredahl@uwrf.edu.
Faculty/Staff Honored at Reception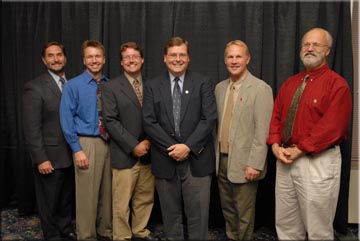 SEPT. 11 , 2006--Faculty and staff recipients of 2005-06 recognition awards as well as advisor of the year and distinguished teacher at the University of Wisconsin-River Falls were honored at a reception Sept. 11 on campus sponsored by the UW-RF Foundation.
Chancellor Don Betz welcomed the group. " We are recognizing those among us who this year have earned our highest adulation and respect," said Betz. "Their recognition is really reflective of a life of contributions, rather than it is just of a year. We are honoring those who model the way for others through their power of example. They model how we play this every day and how we help those around us."
Mary Halada, vice chancellor for administration and finance, bestowed the Chancellor's Recognition Award for Classified Staff to Mike Woolsey, webmaster in the UW-RF publications office, and Matt Fitzgerald, web/database administrator in the UW-RF career services office; and the Chancellor's Award for Excellence for Academic Staff to Dale Braun, campus planner.
Charlie Hurt, provost and vice chancellor for academic affairs, recognized Kelly Cain, professor of plant and earth science, as Advisor of the Year and Nate Splett, professor of agricultural economics, as Distinguished Teacher.
Mike Woolsey
Mike Woolsey is a 1993 graduate of Northeast Metro Technical College and has attended UW-River Falls. He served in the U.S. Army Reserve from 1989 to 1996 as a operations specialist. Woolsey has been previously employed at Lillie Suburban (St. Paul) Newspapers as a technician and photojournalist, the Rochester (Minn.) Post Bulletin as a web site developer, EMC Corporation as a video technician, and the City of River Falls as a community television coordinator/webmaster.
At UW-RF, Woolsey advises university departments on creating and maintaining web pages and maintains the University's top-level web pages. Woolsey has been active in the community as a member of the United Way Olmsted County, the River Falls Utility Commission, and River Falls Cable Television Advisory Committee. In addition, he has served as an interim city council member for District 1. A River Falls resident, he is married and has two children.
Matt Fitzgerald
Matt Fitzgerald is a 1989 graduate of Hudson High School and a 1996 graduate of UW-RF. He worked in a technical capacity for a financial printing company before being hired at UW-RF in information technology for the career services office. Fitzgerald manages the "Hire A Falcon" online job service and the "Mentor Network" system and has presented workshops on career-related topics for students.
He is an alderman for District 4 in River Falls and is a member of the River Falls Park Board, the Housing Coordination Team and the Cooperative Boundary Commission. Recently he completed the River Falls Chamber of Commerce "Leadership River Falls" program. On campus, Fitzgerald is an advisor to the racquetball club. He is also a volunteer webmaster for the Wisconsin Racquetball Association. He has also served on the board of the St. Croix Valley Employers Association and a member of the Wisconsin Association of Colleges and Employers, which awarded him with its President's Award for Excellence. He lives in River Falls and is married with one child.
Dale Braun
Dale Braun has a long association with UW-RF; he also received the Chancellor's Award for Students for helping to install the first campus-wide computer network. A graduate of Osceola High School, he started as an undergraduate in 1979 and worked in various capacities as a resident assistant, in the computer center, and as an educational services assistant. He graduated with honors in 1988, taking a double-major in history and geography, and subsequently beginning employment as the campus planner.
Over the years, Braun has been involved in the planning and budgeting phase of many building projects on campus, including the remodeling of South Hall, remodeling and addition of the Chalmer Davee Library, construction of the Wyman Education Building, the CHILD Center and George R. Field South Fork Suites, as well as the Hunt/Knowles locker room addition. Currently he is involved with the new student union, set to open in 2007, and in the planning stages for the new Dairy Learning Center.
In the mid 1990s, Braun was the project director of Collaboration Across Campus, a program established through a federal grant that utilized the campus as a learning laboratory for students in various disciplines who were interested in design and space projects.
He is a member of the Society for College and University Planning, lives in River Falls and is married with two children.
Kelly Cain
Kelly Cain, professor in the College of Agriculture, Food and Environmental Sciences and program coordinator for the University's Wildlife Recreation and Nature Tourism graduate online certificate program, is a popular professor among students and peers. He has received the 2005-06 Advisor of the Year as well as the 2004 Wisconsin Idea Fellow, a 2001 UW System Teaching Scholar Award, a 1999 National Peer Mentor for the Learn & Serve America Exchange and a 1995 UW Regents Teaching Excellence Award. He was named the 1994-95 UW-RF Distinguished Teacher of the Year and a 1993-94 UW System Teaching Fellow as well.
Cain teaches undergraduate and graduate courses at UW-River Falls and manages community service projects in sustainability-based planning and management. His work in international projects ranges from China and Trinidad to Bolivia and Nicaragua, and currently he has embarked on a sabbatical during the 2006-07 school year, working on sustainability issues in China for fall semester and South America during spring semester.
In addition to his teaching duties, Cain is actively involved in community outreach and service-learning in the St. Croix Valley, speaking and consulting on sustainability-based lifestyles, business models and community development. He has taught at the University of Minnesota and Appalachian State University as well as wilderness leadership courses and outdoor education for the Wilderness Education Association and Wilderness Inquiry. He holds a Ph.D. from the U of M. A River Falls resident, Cain is married and has three children.
Nate Splett
Nate Splett, professor and former interim dean of the College of Agriculture, Food and Environmental Sciences, was also named the 2005 Advisor of the Year at the University. A UW-RF alumnus, he has also served as an associate dean of CAFES.
Splett's experience combines teaching and research with experience in agri-business and the public schools. He was a vocational agriculture instructor in the Barron and Turtle Lake (Wis.) high schools, a loan officer for Production Credit Association, a supervisor for the Farm Credit Administration, has served as a consultant to agriculture-oriented financial institutions, and taught economics at UW-Stout.
Splett has received several grants from the USDA and the Wisconsin Humanities Council for a documentary film on farms. His scholarly and research articles have been published in numerous industry journals.
Splett holds a Ph.D. in agricultural economics from the University of Illinois at Urbana-Champaign. He also farms in Barron and Chippewa counties. A native of Barron County, Splett lives in Bloomer with his wife.
-30-
Photo, above, L to R: UW-RF Chancellor Don Betz, Matt Fizgerald, Mike Woolsey, Dale Braun, Nate Splett, Kelly Cain at the 2006 Faculty/Staff Recognition Reception, Sept. 11.
Last updated: Thursday, 22-Apr-2010 16:07:33 Central Daylight Time