UW-RF Home > University Communications Home > This Month's News Releases
University Communications
For more information contact mark.a.kinders@uwrf.edu or brenda.k.bredahl@uwrf.edu.
42nd Annual Falcon Rodeo Set for Sept. 15-16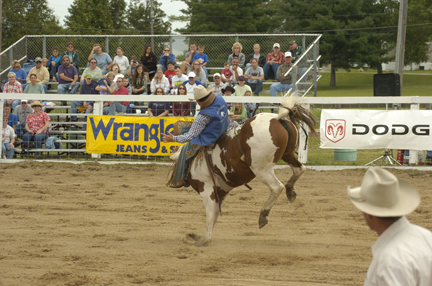 SEPT. 1, 2006--For the past four decades, each September thousands of fans have flocked to University of Wisconsin-River Falls to take in the sights of daredevil cowboys and cowgirls and the sounds of hard-driving hooves at the annual Falcon Frontier Days Rodeo.
The 42nd Annual Falcon Frontier Days Rodeo, part of the National Intercollegiate Rodeo Association circuit, is set for Sept. 15 and 16 at the Lab Farm No. 1 outdoor arena on Wasson Road at the junction of Cemetery Road, just west of Highway 65 in River Falls.
Performances are scheduled for Friday, Sept. 15 at 7 p.m. and Saturday, Sept. 16 at 1:30 & 7 p.m. The event is sponsored by the UW-RF Rodeo Club. Animal science Professor Tony Jilek is the club's advisor.
Save $1 per ticket by purchasing advanced tickets at the Hagestad Student Center or in the Agriculture Science building on campus or the Pleasant Hills Saddle Shop in River Falls or Bernard's Northtown in River Falls and New Richmond. Tickets at the gate are $10 for adults, $6 for students and $5 children ages 5 - 12. Children under age 5 are admitted free. For more information about the rodeo call 715-425-3704 or email anfdsci@uwrf.edu .
Free tickets can be obtained with new or renewed subscriptions to the River Falls Journal, Hudson Star-Observer, Pierce County Herald or the New Richmond News; call 1-800-284-3402 for more information.
Established in 1964 by the late Gerhard (Doc) Bohn, a professor of animal science at UW-RF, the Falcon rodeo was one of the first student rodeos east of the Mississippi. Each year the UW-RF Rodeo Club competes in about 10 rodeos across the country as part of the NIRA, and is one of 14 collegiate rodeo clubs competing in the Great Plains region.
-30-
Last updated: Thursday, 22-Apr-2010 16:07:33 Central Daylight Time