UW-RF Home > University Communications Home > This Month's News Releases
University Communications
For more information contact mark.a.kinders@uwrf.edu or brenda.k.bredahl@uwrf.edu.
Exhibit To Stir Discussions About Women's 'Places'
AUG. 23, 2006--The newest exhibition in the Gallery 101 at the University of Wisconsin-River Falls explores the ideas of how women experience their "place" in culture."
"A Place at the Table," which runs Sept. 6-26, consists of 'chairscapes' created by16 women artists who address perceptions and interpretations of their status in their cultures.
An opening reception is Wednesday, Sept. 13 from 4:30 to 7:30 p.m. in Gallery 101 of the Kleinpell Fine Arts Building. The evening also includes a guest lecture, "Visual Culture and the Witch" by Deborah Smith-Shank, of Northern Illinois University, from 4:45 to 5:45 p.m. and a panel discussion, "Exploring the Lives of Artists" from 6:15 to 7:30 p.m. in the Syse Theater of the fine arts building. In conjunction with the exhibit, a performance piece, "African American Queen For a Day" will be presented on Sept. 20. All events are free and open to the public.
Guest Lecture
Smith-Shank will discuss the semiotics, meanings and significations of visual images of women in contemporary culture as well as throughout history.
"We are immersed in a visually-mediated atmosphere, continuously besieged by globally disseminated gender-based images that serve as food for aesthetic contemplation or as anesthetization," says Smith-Shank, who is author of the book "Semiotics and Visual Culture: Sights, Signs, and Significance" (2004).
"While these images may offer liberation, they can also host a plague of fantasies, not necessarily a bad thing. Some of the most potent visual signifiers crossing cultures and centuries are ones that portray woman as the goddess or witch; as maiden, mother, or crone; and as an object of desire or fear," says Shank, in addition to depictions of temptress, nurturer, warrior, and destroyer or sexuality including asexual, heterosexual, bi-sexual, and lesbian.
"Many contemporary artists and designers working within a feminist tradition have built on the concept of desire and/or repulsion connected with these images of woman/witch/goddess," maintains Smith-Shank.

Smith-Shank, is a professor of art, faculty associate of women's studies, and head of the art education division at Northern Illinois University. She has extensive publications and has written several books. She has received national teaching awards and grants to conduct research on visual culture and gender in Ireland, Canada, Croatia, the Netherlands, and the United States.
Panel Discussion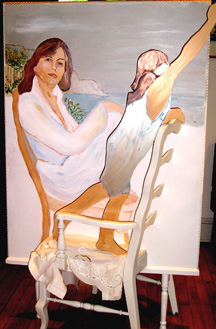 Five participating artists will discuss their experiences as women artists in American culture in a panel moderated by Smith-Shank following the lecture.

Participating artists from the Twin Cities include: Lynnette Black, Liz Dodson, Beverly Cottman, Alis Olsen, Liz Ofstead, Eleanora Kolar, Carol Thurnstrom, Jessica Meunick-Ganger, Kristina Ervin, Marian Lucas, Jill Waterhouse, Francisca de Beurges Rosenthal and Deborah McWatters Padgett as well as Lynn Jermal of Hudson and Nouka Yang of Japan.
Performance Art
Also in conjunction with the exhibit, the performance "African American Queen for a Day" will be performed from 4:30 to 5:30 p.m. in Gallery 101 on Wednesday, Sept. 20. The performance, designed to be entertaining yet educational, will be followed by a discussion.

Visual artist and storyteller Beverly Cottman has researched the oral traditions of African and African-American cultures and learned stories from all over the world. One of the artists with work in the exhibit, Cottman's recent visits to Africa have shaped her work in the exhibit; her chair represents a claim to a place in two cultures. Her performance to be presented as part of the exhibit premiered at the Walker Art Center in Minneapolis. Storytelling helps Cottman realize two goals, she says: to bring stories and the inherent values of the oral tradition to a wide audience and to equip people to release the stories inside themselves. She has presented interactive storytelling workshops in school districts throughout the state and at national conferences. She is affiliated with the Multi-Cultural Center of Minneapolis.
An ASL interpreter is available for events on Sept. 13 and 20. Gallery hours are Monday - Friday, 9 a.m. - 5 p.m. and 7 - 9 p.m. and Sunday 2 - 4 p.m. Gallery 101 at UW-River Falls is just 25 minutes east of St. Paul, Minn., in River Falls, Wis.

For more information about the "A Place at the Table" exhibit, contact Deborah McWatters Padgett at the UW-RF art department, 715-425-3266, or for more information on events associated with the exhibit contact art Professor Lynn Jermal, 715-425-3375.
-30-
Last updated: Thursday, 22-Apr-2010 16:07:32 Central Daylight Time