UW-RF Home > University Communications Home > This Month's News Releases
University Communications
For more information contact mark.a.kinders@uwrf.edu or brenda.k.bredahl@uwrf.edu.
Chancellor's Opening Day Address Stresses Mission, Goals
AUG. 21, 2006--Chancellor Don Betz welcomed back nearly 500 University of Wisconsin-River Falls faculty and staff with a strong message of purpose and mission on Monday after a morning reception on the Student Center lawn.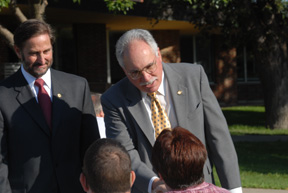 Staff streamed in to the Abbott Concert Hall in the Kleinpell Fine Arts Building to the tune of Guns and Roses' "Sweet Child of Mine" from its debut 1987 release "Appetite for Destruction." Betz, in his introduction, noted that the 2006-07 freshman class was born in 1988, when the cut made No. 1 on the Billboard Hot 100.
"Of the 6,050 incoming students coming to the University of Wisconsin-River Falls community, among them will be 1,300 new freshmen, so get ready," said Betz. "Welcome back ... to the world we share, the calling to teach, to mentor, to create an atmosphere for learning, and to enrich the power of learning."
Betz introduced speaker River Falls Mayor Don Richards, who talked of his first eight years of education at the campus lab school in North Hall and then as a collegian at Wisconsin State College-River Falls from 1951 to 1955, when there were two buildings and 750 students.
"This institution was the only game in town for me," said Richards. "Without UW-River Falls, our city would be another ordinary small burg in west central Wisconsin. With it I think our town is something special."
Several speakers represented shared governance initiatives on campus, including Faculty Senate President Wes Chapin, Academic Staff Council Chairperson Sarah Egerstrom, AFSCME Local 351 Representative Gregg Elliott, and Student Senate President Joe Eggers. Other speakers included new Provost and Vice Chancellor for Academic Affairs Charlie Hurt, who extended his greetings to faculty for the first time formally, as well as Mary Halada, vice chancellor for administration and finance.
Strategic Initiatives
After an introduction of new faculty and staff and a summary of faculty and student accomplishments, Betz stressed several key initiatives based on the university's newly redefined mission, vision and values in his keynote address. These included retention of first- and second-year students, a commitment to civic engagement and service-learning, globalization and international linkages, sustainability, and leadership.
"Change is really part of our daily lives," says Betz. "It's a dimension of the human condition that has accelerated for all of us in this time of globalization, flattening worlds and the geometric proliferation of choices. The challenge of change multiplies with each crisis, and it often painfully reminds us that not only is no man an island, but neither is any nation or people or state or even a university."
Among the endeavors, Betz outlined the installation of a new Chancellor's Leadership Council; preparations for re-accreditation from the North Central Association Higher Learning Commission; a new First-year Experience/Students in Transition office; creation of a leadership institute on campus; strengthening of the new Center for Interdisciplinary Study, founded by an alumna gift to the university; and the start of a new committee to explore, promote and strengthen sustainability efforts on campus.
He also stressed smart growth on campus as directed by the UW System. "We are fortunate in that UW-River Falls is strategically placed geographically to maximize that enrollment growth potential," he said. Betz also pointed out that the UW-River Falls Foundation had a banner year with alumni support at an all-time high.
The core of Betz's address resounded with the mission of helping students become productive, ethical and engaged citizens.
"By what we say and what we do, what we think and what we value, by what we embrace and what we reject, we shape and define our lives and our communities. Much of that influence will be actualized in the thoughts and deeds of those students. As a university, a community of scholars, teachers and learners, it is our expressed intention that we create each day the optimum possibility for personal growth and a sense of social responsibility ... and it is equally imperative and intentional that we do this together.

"This is seminal and life-shaping work before us," concluded Betz. "This appears to be a unique era in human history, this global century of ours."
Related: Audio of Opening Day Remarks
-30-
Photo, above: Chancellor Don Betz and Provost Charles Hurt greeted faculty and staff this morning at the all-campus hospitality hour on the Student Center mall prior to the opening-day program in Abbott Concert Hall. The event kicked off the new academic year as faculty and staff prepare for the first day of classes on Wednesday, Sept. 6.
-30-
Last updated: Thursday, 22-Apr-2010 16:07:32 Central Daylight Time