UW-RF Home > University Communications Home > This Month's News Releases
University Communications
For more information contact mark.a.kinders@uwrf.edu or brenda.k.bredahl@uwrf.edu.
Opening Fall Exhibit 'At The Table' Features 'Chairscapes'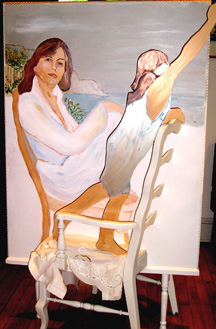 AUG. 7, 2006--A sculptural exhibition of selected "chairscapes" will be presented at the University of Wisconsin River Falls Gallery 101 in the Kleinpell Fine Arts Building from Sept. 6 to 26.
"At the Table: Selected Works" is from an ongoing collaboration among members of chapters of the national Women's Caucus for Art ( www.nationalwca.com).
The works were chosen to reflect women's sense of inclusion or exclusion in the various roles in home, community, government and beyond, according to Exhibit Curator Deborah McWatters Padgett.
An opening reception and program will be Wednesday, Sept. 13 from 4:30 to 7:30 p.m. in Gallery 101. At 4:45 p.m., Deborah L. Smith-Shank, Ph.D., from Northern Illinois University, will present "Visual Culture & the Witch" and also moderate a panel discussion, "Artists Lives" at 6:15 p.m.
On Wednesday, Sept. 20, from 4:30 to 5:30 p.m., a performance and discussion w/ participating artist Beverly Cottman will be in Gallery 101.
Events will be ASL interpreted. For more information about events, contact Lynn Jermal, UW-RF art professor, ata 715-425-3375.
For more information about the exhibit, contact the UW-RF art department at 715-425-3266. Gallery hours are Monday - Friday, 9 a.m. - 5 p.m. and 7 - 9 p.m. and Sunday 2 - 4 p.m. Gallery 101 at UW-River Falls is just 25 minutes east of St. Paul, Minn., in River Falls, Wis.
-30-
Last updated: Thursday, 22-Apr-2010 16:07:31 Central Daylight Time