UW-RF Home > University Communications Home > This Month's News Releases
University Communications
For more information contact mark.a.kinders@uwrf.edu or brenda.k.bredahl@uwrf.edu.
Wisconsin Secretary of Finance visits UW-RF SBDC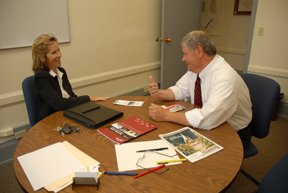 JULY 7, 2006--Secretary of the Wisconsin Department of Financial Institutions Lorrie Keating Heinemann visited the University of Wisconsin-River Falls July 7 to learn more about the Small Business Development Center and the St. Croix Valley Angel Network, which is administered through the SBDC.
Heinemann, who was instrumental in starting the Wisconsin Angel Network, visited with SBDC director Steve DeWald and UW-RF Chancellor Don Betz and discussed entrepreneurship as well as SBDC services and campus involvement.
"I was pleased to welcome Secretary Heinemann to our campus," said Betz. "She was most complimentary about the university. We discussed the entrepreneurial opportunities in this region and the impact of UW-River Falls and its graduates on the dynamism and vitality of western Wisconsin."
The group talked about the St. Croix Valley Angel Network because Heinemann a deep interest in angel financing and her role in the state network, said DeWald. "She's very interested in the forms and methods we developed based on the Kauffman Foundation's screening checklists. We also discussed the SBDC's role in helping entrepreneurs and new businesses get started, move along and obtain financing.
"She also was particularly intrigued that we were able to use one of our master's of management students, Fred Pierce, who is also a UW-RF employee, to develop a marketing plan for one of SBDC's clients," said DeWald. "She found it unique that one of the things we do at SBDC is try to involve both UW-RF students and faculty in the business development area outside of campus."
Heinemann was appointed to the cabinet position by Gov. Jim Doyle in 2003. She is responsible for coordinating the state regulation of the banking and securities industries, licensing of financial service providers, maintaining the corporate filings, and administering the Wisconsin Consumers Act. She has spent nearly two decades in the banking and securities industries and has a B.S. in business administration from UW-Eau Claire and an M.B.A. from UW-Oshkosh.
-30-
Last updated: Thursday, 22-Apr-2010 16:07:30 Central Daylight Time