UW-RF Home > University Communications Home > This Month's News Releases
University Communications
For more information contact mark.a.kinders@uwrf.edu or brenda.k.bredahl@uwrf.edu.
Andrews' Sisters Musical Opens July 20 at St. Croix Valley Summer Theatre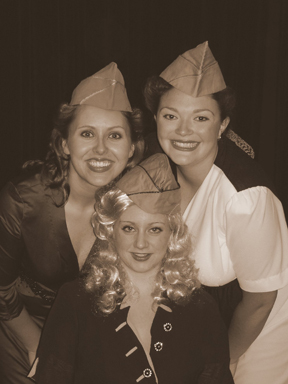 JULY 7, 2006--The most popular female singers of the 1940s take center stage beginning July 20 in "Sisters of Swing: The Story of the Andrews Sisters," the next production of the St. Croix Valley Summer Theater at the University of Wisconsin-River Falls.
The story of the siblings' lives and loves, coupled with their unforgettable music, unfolds in the musical conceived and written by Twin Cities playwrights Beth Gilleland and Bob Beverage. The play is based on a concept by Ron Peluso, and with music arrangements by Raymond Berg. The musical originally premiered at St. Paul's Great American History Theatre.
During their heyday, the Andrews Sisters, who were born in Minneapolis, were the most profitable stage attraction in the country, earning an estimated $20,000 per week. They appeared in 17 Hollywood films and had their own radio show. Their recording achievements are legendary: nine gold records, more than 700 recorded songs, more than 100 songs on the Billboard 100 charts, and becoming the first female group to have a record go platinum. Noted for their distinctive brand of harmony and rhythm, they had more songs in the top 10 charts than Elvis or the Beatles.
Their musical hits featured in "Sisters of Swing" include, "Boogie Woogie Bugle Boy," "Don't Sit Under The Apple Tree," "Rum and Coca Cola," "Near You," "I Can Dream Can't I," "I'll Be With You In Apple Blossom Time," and many more.
The SCVST production is directed by Rosy Kirk (formerly from Hibbing, Minn.) with choreography by Denise Baker (Hudson). The production is under the musical direction of Linda Short (River Falls).
Cast members include: Stephanie Briggs (Woodbury) as LaVerne; Amy Koivisto (Hibbing, Minn.) as Maxene; Kristy Reid (Waconia) as Patty; Willa Townsend (River Falls) as young LaVerne; Brooke McMillan (River Falls) as young Maxene; Reilly Myklebust (River Falls) as young Patty; Vince Baumel (Madison, Wis.) as the pianist; and Michael McKay (Hibbing, Minn.) as a man.
Performances of "Sisters of Swing: The Story of the Andrews Sisters" are July 20-22, 26-29 at 7:30 p.m. and July 28, 1:30 p.m.
All performances are in the Davis Theatre in the Kleinpell Fine Arts Building at UW-River Falls, 420 Cascade Ave. Tickets range in price from $9 to $15. For ticket information call 715-425-3114 or 800-228-5423.
-30-
Last updated: Thursday, 22-Apr-2010 16:07:30 Central Daylight Time