UW-RF Home > University Communications Home > This Month's News Releases
University Communications
For more information contact mark.a.kinders@uwrf.edu or brenda.k.bredahl@uwrf.edu.
July Concerts Heat Up at UW-RF
JUNE 30, 2006--The University of Wisconsin-River Falls 2006 Summer Concert Series features music for all ages in July. Concerts are held on Tuesdays except July 11 at 7 p.m. at the Wall Amphitheatre on campus and are free and open to the public. Grilled bratwurst, hamburgers and pop are available for purchase at the concerts.
For more information visit the Web site at www.uwrf.edu/leadership .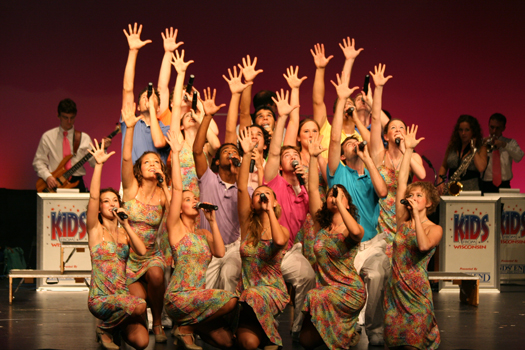 July 4, 7 p.m., Kids From Wisconsin (show choir), Wall Amphitheatre, UW-RF (Rain site: Brandy's, Hagestad Student Center). A true representation of Americana, Wisconsin's own musical ambassadors perform the music of Broadway, country hits, rock 'n roll, swing, jazz and many other styles. Making their annual trek to UW-River Falls, the Kids from Wisconsin have been performing a variety of music since 1969. Each year the group seeks out, trains and showcases the musically gifted youth of the state. For more information, visit www.kidsfromwisconsin.com.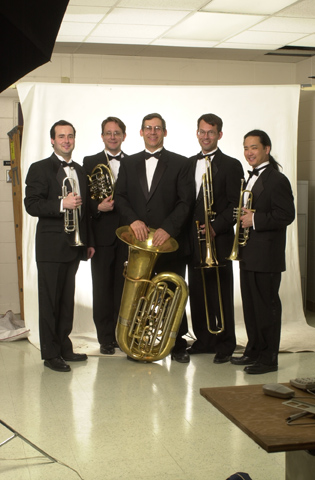 July 18, 7 p.m., River Falls Brass, Wall Amphitheatre, UW-RF (Rain site: Brandy's, Hagestad Student Center.) This popular jazz quintet is composed of UW-RF faculty members Tom Barnett and Craig Hara on trumpet, Andy Parks on horn, Rick Gaynor on trombone, and Chuck Wazanowski on tuba. Since January 2002 the group has presented concerts and clinics throughout western Wisconsin and the Twin Cities and recently been a featured performing group at the Composers Society International Conference, the Wisconsin Music Educators Conference, the Hawaii International Conference on Arts and Humanities in Honolulu. For more information contact the leadership center at 715-425-4911.
July 25: St. Croix Valley Community Band, Wall Amphitheatre, UW-RF (Rain site: Abbott Concert Hall, Kleinpell Fine Arts Building.) This concert features more than 50 musicians from the St. Croix Valley and is now in its 20th year. The band will perform a musical adventure, directed by music Professor Kristin Tjornehoj. For more information, contact the UW-RF music department at 715-425-3183.
-30-
Last updated: Thursday, 22-Apr-2010 16:07:29 Central Daylight Time