UW-RF Home > University Communications Home > This Month's News Releases
University Communications
For more information contact mark.a.kinders@uwrf.edu or brenda.k.bredahl@uwrf.edu.
First-Year Coach Herm Edwards Leads Chiefs Into Summer Training Camp at UW-River Falls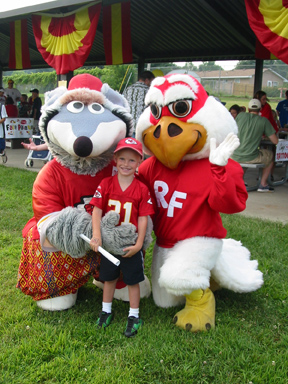 JUNE 30, 2006--There will be plenty of new faces on hand when the Kansas City Chiefs opens its 2006 Summer Training Camp at UW-River Falls in late July.
This is the 16 th year the Chiefs have trained at UW-RF and new head Coach Herm Edwards will put his players on the field for a first practice on July 28 (3:45-5:15 p.m.) at the Ramer Field Sports Complex.
That afternoon practice will feature several key players including; quarterback Trent Green; running backs Larry Johnson and Priest Holmes; tackle Willie Roaf; tight end Tony Gonzalez; cornerback Patrick Surtain, linebacker Kawika Mitchell and the 2006 first round draft choice out of Penn State, defensive end Tamba Hali.
Edwards was named the team's 10 th head coach on Jan. 9. "We selected Herm Edwards because he is without question one of the most qualified head football coaches in the NFL today," said Chiefs President Carl Peterson. "Herm knows what the National Football League is all about. He coaches all aspects of the game and he coaches them well. He is a man of integrity, family and great passion for the game of football."
The 52-year old was a scout with the Chiefs in 1990-91 and a defensive backs coach with the team in 1992-94. The Chiefs' first training camp at UW-RF was in 1991, so he is familiar with the city and the University. Edwards was an assistant head coach and defensive backs coach at Tampa Bay (1996-2000) and the head coach of the New York Jets (2001-05) before taking over the Chiefs' reins.
Eight assistant coaches who are all in their first year with the Chiefs will join Edwards for the 2006 training camp, which will break on Aug. 18. Heading the list of new assistant coaches is a familiar Wisconsin name - Tim Krumrie. The Mondovi native is the team's defensive line coach. He played four seasons at the University of Wisconsin-Madison and had a superb 12-year career with the Cincinnati Bengals. He was twice named to the Pro Bowl and played in Super Bowl XXIII. Krumrie served as a defensive assistant with the Bengals (1995-2002) and as the defensive line coach at Buffalo (2003-05) before joining the Chiefs.
On most days the Chiefs will practice twice from about 9-10:45 a.m., and again from 3:45-5:15 p.m., at the Ramer Field Sports Complex. All practices, except the Aug. 5 Family Fun Night, are free and open to the public.
Several special events are scheduled during camp to give fans an extra value to their training camp experiences at UW-RF.
The popular Punt, Pass & Kick competition for boys and girls age 8-13 will be on Saturday, July 29. Registration is free, and on site will start at 11 a.m. with competition starting at noon. The event is sponsored by FedEx Ground and FedEx Home Delivery. Everyone who participates receives a ribbon and the top three place winners in each category receives a trophy. Edwards will present the trophies to the winners after the Family Fun Night practice on Aug. 5. To register online go to: www.uwrf.edu/chiefs/ppkform.htm .
On Aug. 4 the Chiefs will travel to Mankato, Minn., to practice with the Minnesota Vikings. Tentative practice time is from 6:30-8:30 p.m. at MSU-Mankato, the site of the Vikings Summer Training Camp.
Family Fun Night, sponsored by Viking Coca Cola of River Falls, will be held on Aug. 5. The Chiefs practice under the lights, and food, music and games will be available, as well as photo and autograph opportunities with players and coaches. The session will last from 6:30-6:50 p.m. The popular Chiefs Experience will be back. Join in some interactive games that will challenge everyone's football skills. A speed and obstacle course, a football throw and a field goal kicking station will be part of the fun. The Experience is open to everyone. The Indianhead Sport Parachute Club kicks off the festivities with skydiving, and a fireworks display caps off the fun. Admission is $6 for adults and free to those under 18.
Kids Days and Seniors Day at this year's camp offer fun for all ages. Kids Days are scheduled for Aug. 1 and 14 and Seniors Day will be Aug. 8. The events will be held during morning practices. Concession stand discounts and other activities will be offered. Call 715/425-3771 to register and for more information.
Area golf courses are offering special discounts and packages during the training camp, including Kilkarney Hills (715-425-8501) and Clifton Hollows (800-487-8879) or visit: www.uwrf.edu/chiefs/special_events .
For lodging and other attractions in River Falls and in the nearby scenic St. Croix River Valley, visit: www.saintcroixriver.com.
Practice dates and times are subject to change. For up-to-the-minute practice information call 800 4KCC KCC. More information can be found at the award winning UW-RF Chiefs Summer Training Camp site at: www.uwrf.edu/chiefs .
-30-
Last updated: Thursday, 22-Apr-2010 16:07:29 Central Daylight Time