UW-RF Home > University Communications Home > This Month's News Releases
University Communications
For more information contact mark.a.kinders@uwrf.edu or brenda.k.bredahl@uwrf.edu.
It's Back To The '50s With St. Croix Valley Summer Theatre's Production Of 'Forever Plaid'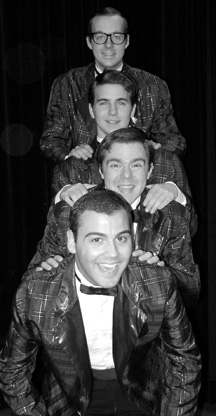 JUNE 23, 2006--The immensely popular musical "Forever Plaid," opens Thursday, July 6 for six performances at the St. Croix Valley Summer Theatre, on the campus of the University of Wisconsin - River Falls.

The 1950s-themed favorite--"dedicated to the 'good guys'... who wheeled the projector carts for the AV Club"--tells the story of the last earthly performance and one-and-only recording of a harmonious crooner quartet.

"Along with its gentle humor and great music from the 1950s, 'Forever Plaid' reminds us that close harmony and friendship are some of the greatest rewards in life," said director Randy Winkler,

Winkler is making his SCVST debut this season. He has directed more than 500 shows in the Twin Cities and nationally, including the recent North Star Opera hit, "Side by Side by Sondheim."

Many of the most popular songs from the 1950s are included in the show, including: "Three Coins in the Fountain," "No Not Much," "Cry," "Heart and Soul," and "Love is a Many Splendored Thing."

Musical director is Linda Short of River Falls, with costuming by Denise Baker of Hudson. Set design is by John Dalziel, and lighting is designed by Pam Kildahl.

Performances of "Forever Plaid" are at 7:30 p.m. July 6-8, 13 and 15; a 1:30 p.m. matinee is the single performance on Friday, July 14. All performances are in the Davis Theatre of the Kleinpell Fine Arts Building, 420 E. Cascade Ave., River Falls. Ticket prices range from $9 to $15. Season ticket and single show ticket information is available by calling 715-425-3114 or 800-228-5423.
Photo Above: L to R: Cast members include Vince Baumel (Smudge); Karl Gfall (Sparky), New Richmond; Keith Carl (Jinx), New Richmond; and Michael McKay (Francis), Hibbing, Minn.

-30-
Last updated: Thursday, 22-Apr-2010 16:07:29 Central Daylight Time