UW-RF Home > University Communications Home > This Month's News Releases
University Communications
For more information contact mark.a.kinders@uwrf.edu or brenda.k.bredahl@uwrf.edu.
UW-RF Students/Staff among FFA honorees
JUNE 23, 2006--University of Wisconsin-River Falls students and staff were among the honorary degree recipients, state officers and hall of famers honored at the 77th Wisconsin FFA Convention held at the Alliant Energy Center in Madison in June.

Five of the 11 new state FFA officers are UW-River Falls students: Ross Bender, a agricultural engineering technology major from Manitowoc; Jennifer Breuer, an animal science major from Hartford; Andrew Christenson, a dairy science major from Amery; Melissa Ploeckelman, an agricultural education major from Stetsonville; and Leonard Polzin, a dairy science major from Cadott.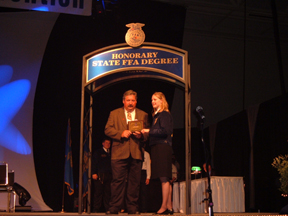 Steve Carlson (photo, right) of River Falls, professor of plant and earth science in the UW-River Falls College of Agriculture, Food and Environmental Sciences, was given the FFA Honorary Degree, the highest honor that the FFA can bestow on a non-member. Recipients are nominated by local FFA chapters and state FFA staff. Carlson received plaque during a special program to thank him for his dedication to youth leadership development. Carlson holds a Ph.D. from Purdue University.

Richard A. Jensen (photo, below) of River Falls, a retired professor and chair of the agricultural education department at UW-RF, was inducted into the Wisconsin FFA Hall of Fame along with John Perkins and Francis Steiner. Jensen holds a Ph.D. from UW-Madison. This is the highest honor given by the Wisconsin Association of FFA. The Wisconsin FFA Hall of Fame was started in 1995 to provide permanent and significant recognition to the special leaders who have impacted the state FFA association and have set an example of service for all FFA members to follow. A maximum of three individuals can be inducted each year.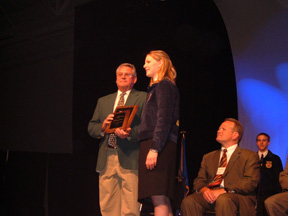 The FFA operates on local, state and national levels. Student members belong to chapters organized at the local school level. Agricultural education instructors serve as chapter advisors. Chapters are organized under state associations headed by an advisor and executive secretary, often employees of the state department of education. States conduct programs and host annual conventions. Founded in 1928, the former "Future Farmers of America" brought together students, teachers and agribusiness to solidify support for agricultural education. The Wisconsin FFA Association was founded in 1929.
-30-
Last updated: Thursday, 22-Apr-2010 16:07:29 Central Daylight Time