UW-RF Home > University Communications Home > This Month's News Releases
University Communications
For more information contact mark.a.kinders@uwrf.edu or brenda.k.bredahl@uwrf.edu.
Art Professor Receives Award of Excellence at International Exhibition
JUNE 16, 2006--University of Wisconsin-River Falls art Professor Peter Mak of River Falls received an Award of Excellence at the 8th Annual Contemporary Art International Online Juried Exhibition, hosted by the Upstream People Gallery.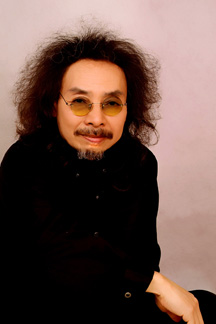 His sculpture, "New Immigrant," was honored with the top award. The seven-foot collection of some 40 nylon shopping bags includes images of homes lost to urbanization and progress. The collaged and painted images on the disposable bags reference urban dwellers' "struggle to find and hang on to shelters and personal space," according to an entry in the exhibition guest book.
Another comment stated that the work "symbolizes life faced by the new immigrant - the overwhelming struggle and challenge of language, jobs, education, home ... and fitting in socially. Once again, the shopping bag is a way of life, a means of transporting - a way of carrying one's belongings, culture, experience and identity from the old country to a new land of hope and dreams."
Three of Mak's other works in the show, "Immigrants & Shelters," "Shadow Dancing 1 - Red Light" and "Shadow Dancing 2 - 3 of Us," received the Special Recognition Merit Award.
Mak's work was selected among 400 entries from around the world. Juror Larry Bradshaw, an art professor at the University of Nebraska at Omaha, selected 70 artists for the online exhibition.
"In "Immigrants & Shelter" the concept of inhabitants, secure placement and orderly arrangements is colorfully displayed," said Bradshaw. In his work "New Immigrant" the message is striking because of the size and the use of the United States passport image and ticket. The red, white and blue bag reinforces the idea. ... his work in this show connects with the notion of moving from place to place."

The works are on display at www.upstreampeoplegallery.com .
-30-
-30-
Last updated: Thursday, 22-Apr-2010 16:07:28 Central Daylight Time