UW-RF Home > University Communications Home > This Month's News Releases
University Communications
For more information contact Doug Lippincott, director of communications, Keuka College, 315-279-5231, dlippinc@mail.keuka.edu\
Coombs Accepts Post at Keuka College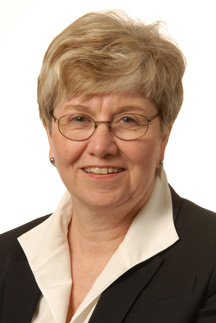 MAY 26, 2006, KEUKA PARK, N.Y.--Keuka College has selected Virginia M. Coombs, provost and vice chancellor for academic affairs at the University of Wisconsin-River Falls, to be its new provost and vice president for academic affairs.
Coombs, who will begin her duties July 1, replaces Gary Bonvillian, who has accepted the presidency of Thomas University in Thomasville, Georgia.
"Dr. Coombs was the unanimous recommendation of the Provost Search Committee," said College President Joseph G. Burke. "Throughout her distinguished career, she has championed a wide variety of programs that enhanced academic quality and faculty development. I am confident that she will be a great academic leader here at Keuka College."
"I am honored by the appointment as provost and vice president for academic affairs," said Coombs. "Keuka's mission of educational access addresses the commitment to serve all learners and is vital to higher education goals in the 21st century."
Coombs, who is also a tenured professor of German at UW-River Falls, served as interim chancellor during the spring 2004 semester following the death of Chancellor Ann Lydecker.
She came to UW-River Falls in 2001 after serving as vice president for academic affairs at Oklahoma City University. She was a visiting senior fellow in institutional advancement at The Sage Colleges in Troy, N.Y., in 1998-99.
Coombs served as vice president for academic affairs and dean of the college at Central College in Pella, Iowa (1994-99), and associate academic dean at Concordia College in Moorhead, Minn. (1990-94). She served as assistant to the president and was a member of the president's senior executive staff at Susquehanna University in Selinsgrove, Pa. (1986-90).
Her faculty appointments include visiting assistant professor of German linguistics at the
University of California-Berkeley in 1986, assistant professor of German at Bucknell University (1981-86), and assistant professor of German at Indiana University (1974-81).
Coombs is chair of the American Conference of Academic Deans and a member of the Association of American Colleges and Universities Board of Directors. She has delivered numerous presentations on student learning and professional development, and is the author of several professional articles.
In the areas of German language and culture, Coombs has authored three books, written several articles and book reviews, and delivered presentations around the country.
Coombs earned doctoral (Germanic linguistics) and master's degrees from the University of Illinois at Urbana-Champaign (Germanic linguistics), and a bachelor's degree (German) from Denison University.
UW-River Falls is located in River Falls, Wis., (pop. 12,850), about 30 miles east of Minneapolis/St. Paul. Founded in 1874, it has an enrollment of some 6,000 students.
-30-
Last updated: Thursday, 22-Apr-2010 16:07:27 Central Daylight Time