UW-RF Home > University Communications Home > This Month's News Releases
University Communications
For more information contact mark.a.kinders@uwrf.edu or brenda.k.bredahl@uwrf.edu.
UW-RF Names New Registrar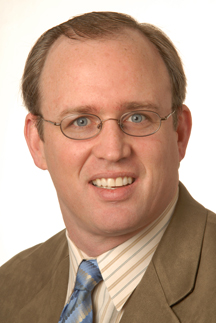 MAY 26, 2006--The registrar and director of admissions for the University of Wisconsin Colleges, who is a UW-River Falls alumnus, has been named the new UW-RF registrar.
Dan Vande Yacht will assume his new position on July 10.
Executive Director of Enrollment Services Alan Tuchtenhagen said Vande Yacht's presence will be greeted warmly on campus.
"Dan brings a wealth of higher education experience to this position. He is well-known among his colleagues in the UW System and, being a graduate of UW-River Falls, is also well known on this campus."
Vande Yacht has held his current position with the UW Colleges since 2004, where he is responsible for the 13 two-year campuses. He directs the Registrar's Office and is responsible for transfer credits, tuition remission and residency appeals, the Student and Exchange Visitor Information System, Transfer Information System, and the Integrated Postsecondary Education Data System. He also serves as liaison to numerous UW System work groups.
He spent several years with UW-Madison Learning Innovations, where he was associate director of student services. Vande Yacht also was employed for three years at the Milwaukee School of Engineering, serving as an undergraduate and graduate admissions counselor and then registrar.
At UW-RF, he earned a bachelor's degree in secondary education. While pursuing an M.S.E. in supervision and instructional leadership, he also spent two years as an assistant coach for the Falcon football team.
As registrar, Vande Yacht will be responsible for expanding online services, enrollment strategies, registration, and graduation clearance as well as managing student records, supervising registration, generating course schedules and supervising eligibility certification for intercollegiate athletes.
-30-
Last updated: Thursday, 22-Apr-2010 16:07:27 Central Daylight Time