UW-RF Home > University Communications Home > This Month's News Releases
University Communications
For more information contact mark.a.kinders@uwrf.edu or brenda.k.bredahl@uwrf.edu.
Chancellor Offers Leadership Course in Scotland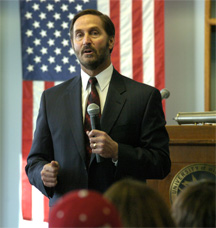 MAY 19, 2006--Students at all levels of university study and from any campus can learn valuable global leadership skills through a short-term study abroad course in Scotland offered Aug. 1-17 by University of Wisconsin-River Falls Chancellor Don Betz.
In a setting rich with history at Dalkeith Palace in Edinburgh, Scotland, the Chancellor's Global Leadership Colloquium will provide an overview of the theories related to and skills necessary for the practice of effective leadership from a global perspective. Leadership is explored as an integral component of any student's career and life plan.
The international setting will provide students with an immersion in another culture while being introduced to leadership theory in order to enhance skills and discover passion for global and cultural change. The course provides a cross-cultural framework for understanding effective leadership and developing a long-term, personal leadership philosophy.
"The course promises to be a unique opportunity to understand and address some of the major global issues with classmates in the context of effective leadership principles," says Betz. "I look forward to working with students truly interested in advancing their leadership capacities by addressing actual world problems and collaborating to find solutions. We will also explore the issues confronting Scotland and learn about its peoples and their world views."
The cost of the trip is approximately $2,950 for travel, room and board plus the tuition for three undergraduate or graduate credits. Students will have the opportunity to explore Scotland as well through such activities as back-packing in the Highlands, discovering the city life of Edinburgh and attending the region's cultural events.
Brent Turner, leadership and training coordinator, and Karyn Kling, associate student services coordinator, will be assisting Betz with the course.
"This course will guide students and get them to define what leadership is themselves," says Turner. "It is cool because this experience will help students start at a big picture and see how they fit in a global setting and hopefully bring that perspective back to River Falls. It opens their eyes to the culture and even themselves. We hope to continue offering this course each summer."
At the conclusion of the course, students will compare and contrast theories and research supporting various leadership models, demonstrate an increased awareness of, and exposure to, cultural differences through the course assignments, develop a personal philosophy of leadership within an international sphere, and communicate effectively in written, oral and electronic contexts.
Betz joined UW-River Falls in 2005. Since 1999, he was provost and vice president for academic affairs and professor of political science at the University of Central Oklahoma at Edmond. From 1994 to 1999, he served as the provost and vice president for academic affairs at Palmer College in Davenport, Iowa. For 23 years he was at Northeastern State University in Tahlequah, Oklahoma, where he served in various capacities including vice president of university relations and professor of political science. While at NSU he also was founder and advisor of its President's Leadership Class and Model United Nations program. From 1982 to 2003, Betz worked with the United Nations on Middle East issues, chairing the International Coordinating Committee on the Question of Palestine, a non-governmental network pursuing peace in the Middle East based on UN resolutions. His international experience also includes service with the University of Pittsburgh's Semester-at-Sea and Chapman College's World Campus Afloat and as a journalist for the Daily Star in Beirut, Lebanon.
"I look forward to interacting with interested students in this debut of UW-River Falls' enhanced commitment to leadership and its continuing development," said Betz.
For more information about the course, contact Brent Turner at 715-425-4663 or visit the Web site at http://www.uwrf.edu/leadership/ChancellorsColloquium.html.
Since 1986, UW-River Falls has been part of the Wisconsin in Scotland Program operated by the West Central Wisconsin Consortium (WCWC), an organization of five Wisconsin universities (UW-Eau Claire, UW-La Crosse, UW-River Falls, UW-Stout, and UW-Superior). Each semester, 80 students and three to five faculty members live and learn in Dalkeith Palace. Courses are taught by faculty from the participating universities as well as adjunct faculty from Scottish and British universities. The semester program allows time for independent travel with a 10-day break and several long weekends. The summer program allows three days of travel/exploration over most weekends. A 20th reunion celebration of the WIS program is planned for July 15 in conjunction with the Minnesota Scottish Fair and Highland Games at the Dakota County Fairgrounds. For more information visit http://www.uwrf.edu/wis/reunion1.htm or call the WIS office at 715-425-4891.
-30-
Last updated: Thursday, 22-Apr-2010 16:07:26 Central Daylight Time