UW-RF Home > University Communications Home > This Month's News Releases
University Communications
For more information contact mark.a.kinders@uwrf.edu or brenda.k.bredahl@uwrf.edu.
CAFES Outstanding Teacher Named
By Jenna Wegner
UW-RF University Communications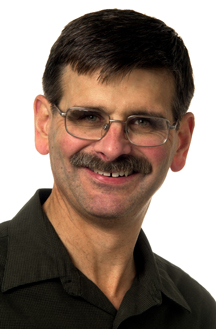 MAY 5, 2006--The University of Wisconsin-River Falls College of Agriculture, Food and Environmental Sciences named Gary W. Onan, the 2006 CAFES Outstanding Teacher at their annual banquet on April 25.

Onan joined UW-RF and the animal and food science department in 1997. A native of Amherst, Wis., he received his Ph.D., M.S. and B.S. from the University of Wisconsin-Madison.

Since that time, Onan has been known for his significant contributions to the college, university and community. Besides his duties as an associate professor of animal science, Onan coaches the UW-RF livestock and meat animal evaluation teams. He is an assistant coach for the Pierce County Livestock Judging Team, which won the state 4-H contest in 2005. Onan is also the advisor for the UW-RF Association of Women in Agriculture.

Nate Splett, interim dean of CAFES Dean, spoke warmly of Onan at the banquet. "Students characterize Dr. Onan as a highly intelligent professor—with an easy-going attitude. He is academically demanding, but also uniquely qualified in hands-on skills related to all aspects of production agriculture."

Onan's pursuit of academic excellence for students extends beyond the classroom. He has mentored students in the McNair Scholars Program, a USDA Challenge Grant-sponsored Undergraduate Research Experience, and this summer he'll be working with a student through the CAFES Funds for Excellence Student Scholars program.

Onan is also a member of the American Society of Animal Science, American Association for the Advancement of Science, Charter Member of the North American Texel Sheep Association, Texel Sheep Breeders Society and the Wisconsin Sheep Breeders Cooperative. Onan serves as a 4-H key leader for meat evaluation and as a judge for county fair carcass shows around the state.

Prior to his teaching position, Onan was the owner of a 45-cow dairy farm as well as a 500-ewe flock and a feeding operation of 100 dairy steers.

"I am honored to receive this award," said Onan. "The students make my job fun. I feed off their enthusiasm."
-30-
Last updated: Thursday, 22-Apr-2010 16:07:24 Central Daylight Time