UW-RF Home > University Communications Home > This Month's News Releases
University Communications
For more information contact mark.a.kinders@uwrf.edu or brenda.k.bredahl@uwrf.edu.
Splett Named UW-RF Distinguished Teacher
By Malisa Hyland
UW-RF University Communications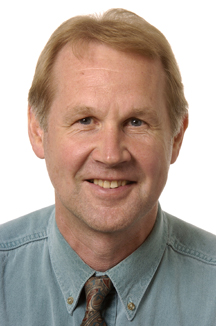 MAY 5, 2006--Nate Splett, professor of agricultural economics and interim dean of the College of Agriculture, Food and Environmental Sciences, has been awarded the 2006 Distinguished Teacher Award, the highest award the University bestows upon its faculty.

Splett holds a B.S. in agricultural education and an M.S. in agricultural economics from UW-River Falls as well as a Ph.D. in agricultural economics from the University of Illinois at Urbana-Champaign. He was a research assistant and fellow at UI and has also been a visiting lecturer at the Academy of National Economy in Moscow, Russia.

Prior to teaching at UW-River Falls, Splett was a vocational agriculture instructor in the Barron and Turtle Lake high schools, a loan officer for Production Credit Association and a supervisor for the Farm Credit Administration. He has also served as a consultant to agriculture-oriented financial institutions and taught at UW-Stout.

Splett teaches introductory agricultural economics, advanced microeconomic theory, agricultural accounting, agricultural law, farm management and horticulture management at UW-River Falls. Splett received the Advisor of the Year Award in 2005.

Splett is a member of the Bloomer Historical Society, Christ Lutheran Church, Scandinavian Cemetery Association, and Barron County Woodland Owners Association as well as former president of the CAFES Alumni Association. He is also a former chair of the UW-River Falls department of agricultural economics.
In addition to teaching, Splett has received several agricultural grants and his research articles have been published in journals including Agribusiness, Agriculture Financial Review, Journal of Dairy Science and others.

Chancellor Don Betz noted, "Helping students learn is what UW-River Falls is about. Nate Splett is most deserving of this honor. He is truly a role model for all of us who are committed to preparing students for productive lives in the 21st Century.

The Distinguished Teacher Award is the highest award presented at UW-River Falls. Selection is based on nominations by graduating seniors and recent alums.
-30-
Last updated: Thursday, 22-Apr-2010 16:07:24 Central Daylight Time