UW-RF Home > University Communications Home > This Month's News Releases
University Communications
For more information contact mark.a.kinders@uwrf.edu or brenda.k.bredahl@uwrf.edu.
UW-River Falls Foundation Names Outstanding Alumni
By Malisa Hyland
UW-RF University Communications
MAY 5, 2006--The University of Wisconsin-River Falls Foundation has named William T. Boehm, Ph.D., and the late Dr. Donald Babbitt as the 2006 Distinguished Alumni Award recipients.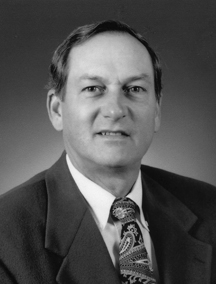 This award is given to alumni who demonstrate leadership and service to their communities and beyond.
Boehm, a 1969 graduate of UW-RF, is a senior vice president at the Kroger Co. in Cincinnati, Ohio. He received his bachelor's degree in agricultural economics and went on to earn a master of science degree in 1972 and a Ph.D. degree in 1974 at Purdue University.

He became an assistant professor of agricultural economics at Virginia Tech before joining the U.S. Department of Agriculture in 1976. There he served as a senior economist and research manager until 1979.
From 1979 until 1981, Boehm was the senior economist for Food and Agriculture with the President's Council of Economic Advisors.

In 1981, Boehm joined the Kroger Co., one of the largest retail food companies in the United States, as the director of economic research. He was promoted to vice president of corporate planning and research in 1986 and then to vice president of grocery procurement in 1989.

In October 1994, Boehm became vice president of logistics for Kroger. He was in that position until 2001, when he became a member of Kroger's senior management.

Boehm has also been an active member of Alpha Gamma Rho Fraternity since his initiation in 1968. He served as the Noble Ruler at UW-River Falls (Alpha Psi) and was Chapter Advisor at Purdue (Delta) and Virginia Tech (Beta Eta). He also was elected to the AGR national Board of Directors in 1996, served as the financial vice president from 1998 to 2000 and was elected Grand President at the fraternity's convention in 2000.

Along with being involved in his fraternity, Boehm has been actively involved in a number of professional and civic organizations.

He was the FFA Wisconsin State President in 1967 and the National Vice President in 1968. Boehm was also on FFA's board for six years, from 1995 to 2000, and raised $7.4 million dollars while serving as chairman in 1999. He was the first national FFA officer to chair the sponsor's board.

Boehm was named recipient of the Purdue University School of Agriculture Outstanding Alumni Award in 1999.

Daniel McGinty, Director of Development and Alumni Relations at UW-River Falls, said that Boehm is a person of substance. "One of his characteristics is the value he places on being a member of a team, rather than on the recognition of himself, in terms of achievements," McGinty said.

Babbitt, a 1942 graduate of UW-River Falls, was recognized posthumously for his extensive work in pediatric radiology. Babbitt was known as the world's leading expert regarding Pancreaticobiliary Maljunction, a disease of the pancreas. His individual research largely contributed to the discovery of the disease. He traveled around the world to speak and present information on the disease and published several articles and other information to books and the American Medical Association.

Dr. Yasuhisa Koyanagi of the Tokyo Medical University wrote about Dr. Babbitt's pioneering work in a letter of recommendation.

"His work has formed the basis for much pre-clinical and clinical work throughout the world in this field. His work has had huge effects on the diagnosis and treatment of countless patients around the world," Koyanagi said.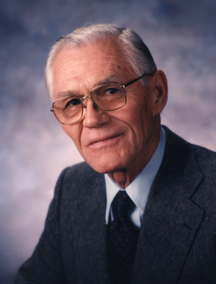 Babbitt was also instrumental in proving that children do, in fact, get gallstones, contrary to conventional medical beliefs at the time. Dr. Babbitt also realized that children needed medical care regardless of whether or not they had health insurance and often used his own resources to care for children medically.

Babbitt graduated from UW-RF with a pre-med degree before earning his degree at the Marquette University School of Medicine, now known as Medical College of Wisconsin. He also attended the U.S. Army Medical Field Service School in 1947 before serving as the Chief of Radiology at the 250th Army Station Hospital in Regensberg, Germany, from 1947 to 1949.

Following his service in the Army, Babbitt was a resident at Madigan General Hospital in Fort Lewis, Washington, Milwaukee Children's Hospital and Milwaukee Hospital working in radiology.

Beginning in 1958, Babbitt was employed at the Medical College of Wisconsin, serving various roles such as instructor in radiology, associate professor of radiology and clinical professor of radiology.

Babbitt had more than 70 works published, gave nearly 60 presentations and created 16 scientific exhibits throughout his career.

In addition to his medical career, Babbitt was also involved in the Alpha Omega Alpha Honor Medical Society and was elected an alumnus member in 1968. He was elected fellow of both the American College of Radiology and the American Academy of Pediatrics. He was involved in various professional societies including the Milwaukee Academy of Medicine, Wisconsin Radiological Society, Society for Pediatric Radiology and the American Medical Association.

Additionally, Babbitt was involved in the Rotary Club of Milwaukee, a Century member of the Boy Scouts of America and served on the St. Francis Children's Center Board of Directors.

Other awards Babbitt has received are the Milwaukee Children's Hospital and Medical College of Wisconsin's Medical Education Recognition Award, the Who's Who in the Midwest and Who's Who in the World.

The recipients will be recognized on Saturday, May 13 during each of the two commencement ceremonies at UW-River Falls. Babbitt's wife, Katherine, of Hartford, Wis., will be accepting the award on her husband's behalf.
-30-
Last updated: Thursday, 22-Apr-2010 16:07:24 Central Daylight Time