UW-RF Home > University Communications Home > This Month's News Releases
University Communications
For more information contact mark.a.kinders@uwrf.edu or brenda.k.bredahl@uwrf.edu.
Gravity Table Donated to Ag Engineering Department
By Jenna Wegner
UW-RF University Communications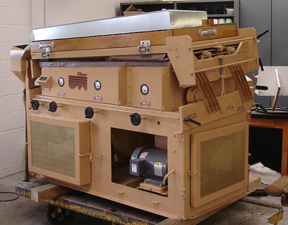 MAY 5, 2006--The University of Wisconsin-River Falls agricultural engineering department recently received a unique donation from the Oliver Manufacturing Coxs.

OMC gave the University a gravity table, which is used for sorting seeds and grain for cleaning. The most recent equipment addition to UW-RF, the gravity table, sorts the good seeds from the bad based on the seeds' density. The lighter seeds are discarded because they have been found to produce less well as the heavier seeds.

Kamal Adam, UW-RF agricultural engineering professor, helped in orchestrating the donation. While teaching at Iowa State University, Adam was head of seed conditioning. He would conduct on-site training with Oliver Manufacturing Co. equipment to teach students and industry people how to use seed and graining cleaning machinery.

When Adam began teaching at UW-RF his dedicated work with the Oliver Manufacturing Co. opened doors.

"Since UW-RF didn't have a gravity table, I contacted Oliver Manufacturing Co., and due to my continued work with them they were willing to donate a gravity table to our university," said Adam.

Many students have never worked with a gravity table and Adam felt the need for them to understand the benefits it brings to the seed industry.

"The machine is the backbone of the seed industry, and it's essential for students to know how to manage this machine," said Adam.

Adam said that the students are the primary beneficiaries in the gift. The knowledge students gain through the use of the gravity table will open up numerous doors once they graduate. He also hopes to establish a training program so others involved in the seed and grain industry are able to learn the proper techniques of the gravity table.

The gravity table will be used by general farm machinery classes, agronomy classes and for anyone else interested in learning about the machine.

"This is just the start," said Adam, who would like to continue to build at " I'm not going to stop until UW-RF has a complete seed and grain cleaning laboratory," stated Adam.
-30-
Last updated: Thursday, 22-Apr-2010 16:07:23 Central Daylight Time