UW-RF Home > University Communications Home > This Month's News Releases
University Communications
For more information contact mark.a.kinders@uwrf.edu or brenda.k.bredahl@uwrf.edu.
Alumnus Named Distinguished Agriculturalist
By Jenna Wegner
UW-RF University Communications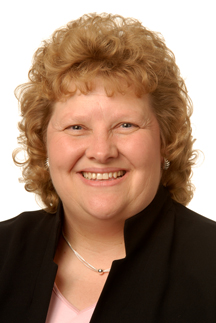 APRIL 28, 2006--The recipient of the UW-River Falls College of Agriculture, Food and Environmental Sciences 2006 Wisconsin Distinguished Agriculturalist Award is Christine Jumbeck, an agricultural education teacher at the Cochrane-Fountain City School District.

"Chris Jumbeck is highly energetic, friendly and personable leader in the field of agriculture," stated Gerald Matteson, former agricultural education instructor at UW-RF. "It has been our experience that outstanding leaders, such as Chris, have a trait in common, and that is she possesses a passion for what they're doing. To Chris it is not a job, but a wonderful experience to become an outstanding high school educator."

Jumbeck was born in Winona, Minn., and at the age of five, her parents moved to Fountain City to operate a dairy farm. She graduated from Cochrane-Fountain City High School and entered UW-RF in 1983, majoring in agricultural education.

She graduated in 1987 and in the fall of 1988 Jumbeck was hired as the Vocational Agricultural Instructor at Cochrane-Fountain City School District. Jumbeck virtually took a non-existent department and developed it into one of the best in Wisconsin. While at C-FC she has developed a curriculum of diversity and interest that is testified by the 40 percent of students in the high school who are enrolled in agricultural courses.

Jumbeck has been an exceptional fixture in Wisconsin agriculture. She's a past sectional vice-president of the Wisconsin Association of Ag Educators and was named John Deere Outstanding Teacher of the Year. Jumbeck is particularly noted for her success with the FFA organization. In 2003, she had teams place first in Ag Issues, Quiz Bowl and the Job Interview. In 2004, C-FC had the Wisconsin Star Farmer, first place Cereal Grain, Diversified Horticulture, Turf Grass, Leadership, and Prepared Speaking winners. In the summer of 2005, six of her students qualified for the state FFA speaking contest. C-FC also had the first place Quiz Bowl team, three state proficiency award winners and two national proficiency finalists. Jumbeck has also produced five sectional vice-presidents and two state FFA presidents.

Jumbeck's passion for agriculture extends nationally as well as internationally. She's participated and toured agricultural farms and businesses in Alaska and chaperoned 30 Wisconsin FFA officers and members to Ireland. In 2000, she was one of 10 Wisconsin agri-science instructors selected to teach students in Russia and in 2003, Jumbeck participated as a teacher on an agri-ecology tour in Costa Rica.

The Wisconsin Distinguished Agriculturalist Award is given on behalf of the University of Wisconsin-River Falls, the College of Agriculture, Food and Environmental Sciences and the college's Student Advisory Council. Candidates nominated for this award have made significant contributions and demonstrated a "vision" for long-term growth and success of Wisconsin agriculture. The Wisconsin Distinguished Agriculturalist Award was first presented in 1970.
-30-
Last updated: Thursday, 22-Apr-2010 16:07:22 Central Daylight Time