UW-RF Home > University Communications Home > This Month's News Releases
University Communications
For more information contact mark.a.kinders@uwrf.edu or brenda.k.bredahl@uwrf.edu.
Historian Shares Leadership Lessons from Harrowing Antarctic Expedition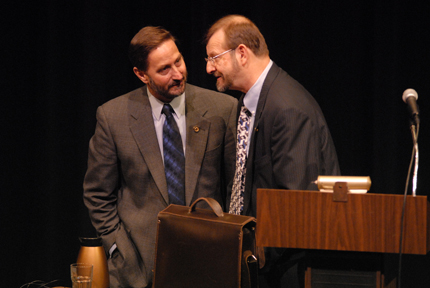 APRIL 28, 2006--In an animated, theatrical presentation at the Phipps Center for the Arts in Hudson April 27, historian and Antarctic expert T.H. Baughman made leadership lessons come alive from Sir Ernest Shackelton's perilous 1914-17 expedition to the south polar regions.

While the voyage was cut short because his ship was frozen in and later crushed by the shifting ice of the Weddell Sea, Shackelton's leadership and human acumen saved the lives of the entire crew, which was stranded for more than 500 days in the vast icy reaches of the Antarctic continent.

Shackelton abandoned his lifelong expedition goals and dreams, but not his crew. Using three small lifeboats from his ship, aptly titled "Endurance," they made their way to Elephant Island. With scant supplies, crew journals, a banjo and the 23rd Psalm torn from a Bible left behind, Shackelton then led a smaller crew on one boat through nearly 800 miles of the Southern Ocean and the wicked Drake Passage to South Georgia Island where he knew whaling stations would mean certain rescue.

Along the way, peril after peril such as a hurricane and currents leading them off course challenged his unwavering leadership, including a terrifying "human toboggan" ride down a mountain. When they finally arrived on the inhabited side of South Georgian Island, the filthy leader and his crew were unrecognizable by the head of the island's whaling industry, who had dined with them in inaugural celebration more than a year before. Four attempts later, he saved his entire crew, a few on the remote side of South Georgian Island and the remainder left stranded on Elephant Island.

Shackelton was a renaissance man of sorts, successful at all of his many endeavors. Professor Baughman, who teaches history at the University of Central Oklahoma, noted that he was even more determined to lead after he was said to be unfit for duty after an illness on a prior expedition under fellow explorer Robert F. Scott. But he persevered, Baughman said. "I guess I'm fit for nothing but exploring," Shackelton wrote in despair to a friend.

"A leader has to know to play on his strengths but not beyond them," Baughman said. "A leader never loses sight of responsibility."

Shackelton used various techniques to shore up the morale of his crew, even when they were stranded on an ice flow for more than two months. He rewarded them with extra food, held a Christmas celebration months early, and kept personal council with each and every member. Every day, Baughman said, Shackelton had to make decisions regarding life and death. "As the situation becomes more demanding, Shackelton's focus gets sharper."

Baughman was invited to speak by UW-River Falls Chancellor Don Betz, who celebrated his inauguration into leadership of the western Wisconsin campus of 6,000 students on April 28. Betz worked with Baughman, who for four years was dean of the College of Arts and Sciences, at UCO.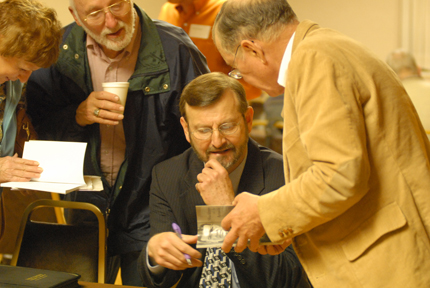 "Being a dean temporarily ended his career as a scholar," quipped Betz in introducing him. "He's hoping to recover."

His theatrical lecturing style was refreshing as he moved into the Phipps audience and approached members as if they were characters in the story. "I really believe my freshman lectures are better," Baughman modestly said after the presentation. "I'm able to bring in more content issues and be more spontaneous than from a set."

Baughman has authored six books on Antarctic and European history, including "Shackelton of the Antarctic." He is a fellow of the Royal Geographical Society and the Explorer's Club as well as a member of his local Sons of Norway.

Baughman's involvement with south polar regions began in the 1973-74 Antarctic season when late noted glaciologist Ian M. Whillans invited him to join a scientific expedition as the "token" humanist. Subsequently Baughman has made more than 30 trips to Antarctica. He is currently at work on a book about American involvement since 1948 on the southernmost continent that is run by international agreement fostering scientific and ecological tourism collaborations.

For his newest book, he is seeking accounts of people associated with Antarctic involvement who served before 1985. He can be reached at tbaughman@ucok.edu.

"Antarctica is a great international experiment," says Baughman. "It holds lessons for today's world."

Antarctica is not so far from the minds of faculty and students at UW-River Falls. Physics Professors James Madsen and Glenn Spiczak and their students have a long and current involvement with the AMANDA (Antarctic Muon and Neutrino Detector Array) IceCube Project with an international team of academic institutions, scientists, engineers, and technicians on the massive neutrino telescope at the South Pole.
-30-
Last updated: Thursday, 22-Apr-2010 16:07:22 Central Daylight Time