UW-RF Home > University Communications Home > This Month's News Releases
University Communications
For more information contact mark.a.kinders@uwrf.edu or brenda.k.bredahl@uwrf.edu.
Betz Outlines University Mission, Vision at Inauguration
APRIL 28, 2006--University of Wisconsin-River Falls Chancellor Don Betz spoke passionately about the University's mission of creating ethical and engaged graduates who have a global perspective at his inauguration speech and ceremony April 28, installing him as the 16th chancellor of the 132-year-old public university serving 6,000 students.

"We are intentional in inviting our students to a life of engagement and tolerance, of service and global literacy, of continuing to develop themselves as both citizens and leaders," said Betz in his speech, "Roots and Wings for the Global Century." He spoke to an audience of 700 faculty, staff, students community members, family, friends, colleagues, public servants and invited guests. "We join with them in the pursuit of striving for academic excellence through the consistent development of their potential as critical thinkers, effective communicators, committed life-long learners and servant leaders. We don't do this in a vacuum, and we don't do this without passion."

Betz also emphasized the importance of institutional intentionality, and urged faculty, staff and students to continually ask themselves, "Why are we here?"

"We create the world in which we work and fulfill our calling. It is a collaborative journey, powered by the exceptional individual and group action gathered around common core values, mission and vision … those values include integrity, academic excellence, inclusiveness, community in its narrowest and broadest sense and continuous improvement.

"We are here to create and sustain an environment of mutual respect, professional behavior and an appreciation of individual differences and a celebration of the rich mosaic of human diversity in all its styles, shapes, contours and hues," said Betz. "We call it inclusiveness, and it has meaning to the extent that the value becomes custom and habit, an integral part of our lives, our relationships, and our world. … We join with our UW partners in modeling the way so that all may live in larger freedom."

In answering the question, "Why are we here?" Betz said that the university community believes it exists to "prepare, mentor, challenge, inspire, collaborate, teach, inquire, debate, nurture people and curiosity, critique, create, applaud, serve and to 'model the way. 'We are here to be cultivators of the economy through our institution and our graduates. We are the generators of political, cultural, social and economic development. "

Among invited speakers at the ceremony were Secretary Rod Nilsestuen of the Wisconsin Department of Agriculture, Trade and Consumer Protection, a 1970 graduate of UW-River Falls; UW System President Kevin Reilly; UW-System Regents Brent Smith and Danae Davis, who served as presiding officer; and River Falls Mayor Don Richards.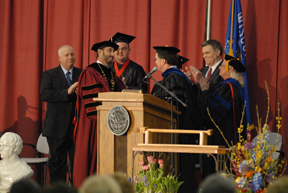 Nilsestuen said, "It's good to be here representing Gov. Jim Doyle, Wisconsin and UW-River Falls. Coming back here feels like home. No other life experience has prepared me more for what I'm doing now than the life lessons that UW-River Falls had taught me."

Reilly noted that Betz's extensive international background was apropos to guide the campus into the global century. "Don Betz is a skilled diplomat in his own right," said Reilly, who also spoke on the importance of public higher education. "A well educated citizenry is crucial if a nation is to solve challenges."

Representing the alumni was KARE-11 TV journalist Boyd Huppert, a 1984 graduate of UW-River Falls, who presented a video with greetings from UW-River Falls alumni across the globe, including fellow Twin Cities broadcast journalist Cathy Wurzer, Director of World Vision-Pakistan Sig Hanson, NASA Space Shuttle Commander Dan Brandenstein and China Exploration Research Society President Wong How Man. A bust of Daniel Webster was given to the chancellor by the alumni.

In addition to alumni, UW-River Falls was representing by Faculty Senate President Barbara Werner, who gifted Betz with a wooden park bench; Student Senate President Nicholas Cluppert, who presented the chancellor with a falcon, carved by local artist Dave Helberg,
on behalf of the student body; Academic Staff Representative Sarah Egerstrom, who, on behalf of academic staff, donated a cache of leadership books and literature for a special library collection, and Classified Staff Representative Greg Elliott, who bestowed Betz with a tree to be planted on campus.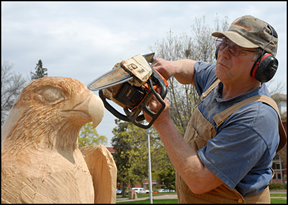 At the both the inauguration and close of the ceremony, approxi-mately 200 faculty and staff as well as visiting colleagues and guest from other universities dressed in traditional academic garb, were led by English Professor and Faculty Marshal Nicholas Karolides, the most senior member of the faculty. Also participating in the processional were international students dressed in traditional costume and carrying flags representing their home countries, students who received the 2006 Chancellor's Award for Excellence and students who represented the more than 125 student organizations.

Solos were performed by mezzo-soprano Patricia Steiner of the Metropolitan Opera, a 1979 graduate, with musical performances by the UW-River Falls Symphonic Wild Ensemble, Concert Choir and the Jazz Ensemble I.
-30-
Last updated: Thursday, 22-Apr-2010 16:07:21 Central Daylight Time