UW-RF Home > University Communications Home > This Month's News Releases
University Communications
For more information contact mark.a.kinders@uwrf.edu or brenda.k.bredahl@uwrf.edu.
UW-RF Launches Project Bolivia
APRIL 21, 2006--University of Wisconsin-River Falls Chancellor Don Betz and M. Damon Nolan (below), director of Unidad Academica Campesina-Carmen Pampa of Bolivia, signed a Memorandum of Understanding April 19 to formally launch a cultural and academic exchange program between the two universities.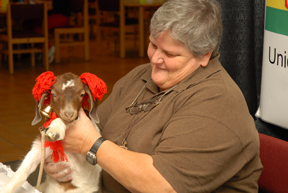 As the pair signed the agreement to explore future partnerships, they also exchanged gifts; Nolan gave Betz a charango, a guitar-like stringed instrument hand-carved and decorated in mother-of-pearl by one of the students at UAC-CP. Betz gifted Nolan with a new resident goat for the UAC-CP Goat Project, an initiative that employs 18 university students and helps supply milk to several dozen neighborhood schoolchildren. The goat was on loan from Judy Moses and Larry Jacoby of the Shepherd Song Farm in Downing, Wis., and the real goat will be purchased in Bolivia.

Known as Project Bolivia, the partnership has been active informally for more than a year, according to UW-RF speech instructor Pat Hanson, who has coordinated the effort. Faculty and administrators have visited each other's campuses in 2005 and 2006.

UAC-CP offers degrees in five fields: agriculture, veterinary medicine, nursing, teacher training and eco-tourism. It also has institutional partnerships with South Dakota State University and the College of St. Catherine. UAC-CP has been designated by the United Nations as one of the seven most effective initiatives to eradicate poverty along with a $1 million grant to assist the efforts.

UAC-CP's greatest need is for the Teaching of English as a Second Language, and two 2005 UW-RF graduates, Diana O'Brien and Danielle Lang, have been teaching English at UAC-CP since February.
UAC-CP faculty and administrators are excited about opportunities with UW-RF's online Graduate Certificate Program in Wildlife Recreation among other UW-RF programs.

At the reception, student Nicole Bee, a freshman music education major from Arkansaw, Wis., performed Latin American music on a Bolivian recorder purchased on a recent exchange trip.
-30-
Last updated: Thursday, 22-Apr-2010 16:07:20 Central Daylight Time